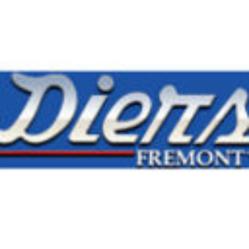 Given the model's history, the 2011 V-6 is the more impressive of the two updated Mustangs.
Omaha, NE (PRWEB) November 29, 2011
The Diers Ford Dealership of Omaha, NE wants automotive consumers to come in and take a 2011 Ford Mustang for a test drive while they last. Because with the dealership liquidating current in-house stock to accommodate the arrivals of the 2012 models, the deals will be phenomenal. Automotive purchasers are not likely to see deals this significant again until next year at this time. Along with stellar end-of-the-year pricing, the accolades for the 2011 Mustang have been ringing loud and clear. With a 305 horsepower V-6 engine and six-speed manual and automatic transmissions, the V-6 model rivaled the 315 horsepower 2010 Mustang GT's V-8. The 2011 GT, with its 412 horsepower V-8, moved into an altogether new class. Despite the increases, gas mileage was also up straight across the board, including an incredible EPA-estimated 31 mpg highway for the V-6 automatic. Anyone in the market for a new Ford Mustang in Omaha or a used Ford Mustang in Omaha are strongly advised to make their move now while these deals, along with low financing rates and dealer incentives, are still available.
Since its release the 2011 Ford Mustang has been closely scrutinized and analyzed. Much has been said and written about it in the media, including the optional performance package available. According to Cars.com independent reviewer Joe Wiesenfelder, "What's good about the performance package is that its estimated price is less than $2,000, and it will be available on stripped-down V-6 models, providing a great performance car for less than $25K. Anyone who's not ready to buy a GT due to the cost — of the car, V-8 insurance or lower mileage with the recommended premium rather than regular gas — should jump on this thing. Given the model's history, the 2011 V-6 is the more impressive of the two updated Mustangs."
Along with great optional performance packages, the 2011 Ford Mustang, as well as the rest of the "Built Ford Tough" family of vehicles, is available with a variety of great function and safety options to choose from as well. Take the Ford SYNC system. This technology works in conjunction with Smart Phones to give you a safer driving experience while interacting with today's modern features available on most new phones. It offers hands-free calling and audible text messaging along with 911 assistance as well as driver assisted turn-by-turn directions, traffic alerts, business searches, and 411. It's also got entertainment options available such as voice-activated music, internet connectivity, and news, weather, and sports.
These great options, along with the Ford reputation for durability and reliability, has made Ford the best selling name in automobiles for nearly a century. Diers Ford is proud to be a part of that continuing legacy and offers both new Fords in Omaha as well as used Fords in Omaha at their dealership with pride. And Diers Ford has seen an increase in the sale of used cars in Omaha over the last few years with all of the belt tightening the American consumer has been faced with in recent years, and keeps an ever expanding selection of pre-owned certified vehicles in stock for this sector of society that understands the value of a dollar. Knowing that in this day and age a new vehicle of any make or model is not in everyone's budget has served them well. They're constantly on the lookout for high quality used cars and used trucks in Omaha to offer on their lot.
Their ability to stay abreast of the latest buying trends lends itself to the stellar reputation they have managed to achieve over the years in their community. This, along with their honesty and integrity, willingness to work with customers on any budget to try and put them into the right vehicle, their knowledgeable and friendly sales staff, and flexible financing have enabled them to earn the trust of customers for decades, and that trust returns itself tenfold with customer loyalty for years to come.
First in Results SEO Marketing
###