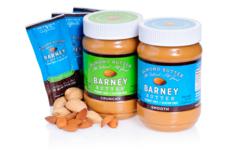 Fresno, CA (PRWEB) November 29, 2011
Barney's Premium Foods, purveyors of the 100 percent all natural Barney Butter almond butter, is pleased to announce that it has earned the coveted organic Handler/Processor certification from the Agricultural Services Certified Organic (ASCO) organization. Effective immediately, the certification allows for the handling and processing of organic products in all Barney Butter manufacturing plants, providing Barney's Premium Foods with not only the ability to make organic formulations of Barney Butter, but to co-pack and private label a wealth of other organic items.
In order to qualify for the certification, Barney's Premium Foods was required to comply with all organic production and handling regulations as described in the final rule issued by the United States Department of Agriculture (USDA Regulations, CFR Part 205). Their ASCO certification is just the latest on the brand's burgeoning list of esteemed accomplishments, including their Non-GMO Project verification and their membership to the Roundtable on Sustainable Palm Oil (RSPO).
Barney Butter almond butter, which is manufactured under strict sanitary conditions in an almond-only facility, is 100 percent gluten-free and vegan-certified. A healthier alternative to peanut butter, Barney Butter has fewer calories and less than half the saturated fat.
"As an organization that promotes health and safety in food choices, we feel obligated to join the crusade in satisfying the growing demand for organic products," said Barney's Premium Foods President, Dawn Haden Kelley. "Our ASCO certification enables us to help like-minded brands deliver such products to an increasingly health-savvy public, and is already proving to be an invaluable component of our business."
Barney Butter products are available at grocery stores, and other major retailers and independent grocers across the country, as well as online at http://www.barneybutter.com and several online retailers. Barney Butter retails for $5.99 to $6.99 for a 10 oz. jar or $7.99 to $9.99 for a 16 oz. jar, and is also available in two on-the-go sizes of .6 oz. (snack size) at $.79 to $.99 and 1.06 oz (sandwich size) for $1.09 to $1.29.
For more information on Barney's Premium Foods, readers can visit http://www.barneybutter.com. For more information on ASCO, visit http://www.ascorganic.com.
EDITOR'S NOTE: For more information about Barney Butter, contact Nancy Trent or Pamela Wadler at (212) 966-0024.
###