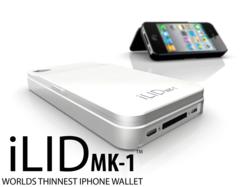 World's thinnest iPhone wallet
(PRWEB) November 28, 2011
Ever had an idea that you thought would be the next big thing? It's never been a better time than right now! just ask the creators behind the World's thinnest iPhone wallet by iLID iPhone Case. As we plug in to the online world and all it has to offer, there are new and exciting ways of making that idea reality.
One idea that has really taken hold of creators the world over is the crowd sourcing site kickstarter.com.
Designed as a site that presents designers' ideas and concepts in an environment that allows people to pledge their support to a project, Kickstarter has proven to be a resounding success, having reached the $100 million mark in pledges to fledgling projects.
Ideas like Tictok by Scott Wilson, whose project featured watchbands for the Apple nano, smashed all kinds of records with a staggering $942,578 pledges within a one month campaign. The company has been so successful that it has influenced Apple (no mean feat for a start-up), which has released a series of new watch faces for the iPod Nano.
Another such innovator is the Australian start-up company, iLID iPhone Case Is the collaboration of Aussie designers Simon Dunn-Vaughan and Darren Inglis, who decided to use the Kickstarter site as the platform for launching their iPhone wallet. A multifunction case that is arguably the world's thinnest iPhone wallet.
Designed to carry two cards, key, cash and the ability to serve as a kickstand. The world's thinnest iPhone wallet met with international interest after being featured in Macworld on the strength of rapid prototypes.
Swamped with emails asking for a release date, the guys thought that a short campaign to raise the rest of the required build money would be a great way of bringing their project to life.
Pre orders are now being offered at http://www.ilidiphonecase.com with early supporters also receiving a limited edition "world's thinnest 1gb usb stick" as a thank you to helping with the launch of the product.
**statistics found at kickstarter.com
###