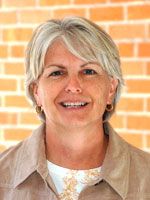 I will always advocate for students. That's priority one as dean. --Chris Haines
(PRWEB) November 30, 2011
Phoenix College, a premier institution of higher learning, has named Chris Haines as its dean of student affairs. She began her new role on November 1, 2011.
Haines has been working in the Maricopa Community Colleges system since 1988, starting at Mesa Community College. For the previous 10 months before joining PC, she served as interim associate dean of enrollment services at South Mountain Community College (SMCC).
Last year, she served an eight-month term as interim dean of student services at Scottsdale Community College during a national recruitment for that position. Prior to that, she served as interim associate dean of student development at South Mountain Community College, and also served as director of athletics and the fitness center at SMCC for six years.
Throughout her career, Haines has served on numerous college, district and national committees, as well as a tri-chair for SMCC's successful Higher Learning Commission accreditation in 2009.
"Her ability to see the big picture, to work and collaborate with diverse groups, and to find a way to lead everyone in the same direction for the good of the institution and its students will be an asset to our campus community," said PC President Dr. Anna Solley.
A native of Zion, Illinois, Haines attended Black Hills State University in Spearfish, South Dakota, becoming the first in her family to earn a college degree. She majored in political science. She went on to receive a master's in Educational Counseling from Northern Arizona University and is currently working on her doctorate degree in Educational Leadership/Higher Education at NAU.
She also played collegiate volleyball and coached both volleyball and basketball at two- and four-year colleges.
So far, she's enjoyed PC's diverse campus community and her new role. "PC has a real appreciation of its history," she said. "It's traditional but also innovative. And diversity is a great part of the college."
One of her roles at PC will be to assure the college's new One-Stop Enrollment Center, which will be open for the upcoming spring semester, is operating at a high level. "We want to make it a place where staff can do their best work every day," she said. "We believe it can be a national model."
As dean, she oversees all student conduct issues and will serve as a conduit between PC administration and staff.
"I will always advocate for students," said Haines. "That's priority one as dean."
Phoenix College is one of the 10 regionally accredited Maricopa Community Colleges.
###