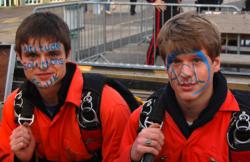 Right now we're on track to make $300,000 this year, and we could be on the verge of something even bigger
London, UK (PRWEB UK) 29 November 2011
BuyMyFace.com is the creation of Ross Harper, 22, and Ed Moyse, 22, who came up with the idea as a means to pay off their combined student debt of £50,000 ($78,000). In two months, the pair have made £10,000 ($16,000), and with the price of their faces increasing as website hits rocket, the future is looking promising for the two best friends.
Advertising is being sold through BuyMyFace.com as 366 separate days. During this time, Ross and Ed are painting a logo or message onto their faces, then uploading pictures to their website homepage and online calendar. Having had their faces bought by companies from the USA, Germany, Japan and the UK, this quirky idea is capturing the imagination of people all around the world.
Gathering Momentum
For their first day of advertising on 1st October, Ross and Ed set a price of just £1 ($1.60), which was bought by a friend. Since then, the price has been increasing daily, and their faces have attracted a variety of big names including Paddy Power, Ernst & Young, Russell Howard's Good News, and Pipers Crisps.
"Our idea was about starting really small, and quickly gathering momentum", Ed Moyse
"It's an upward spiral - the more money this wacky idea makes, the more people talk about us and visit our website, so the more attractive we become to advertisers", Ed Moyse
Having received over 30,000 unique website hits in the first month, BuyMyFace.com demonstrates how an unusual idea can become effective viral marketing through the Internet. The boys are confident they'll be able to clear their debt before the year is up.
"Our aim was always to pay off our student debt while doing something we enjoy, however BuyMyFace.com has exceeded our expectations. Right now we're on track to make £200,000 ($310,000) this year, and we could be on the verge of something even bigger", Ross Harper.
A Walking, Talking, Skydiving, Skiing Advert
According to their website, Harper's official job title is "Supreme Chancellor", and Moyse holds the position of "Executive Titan". These unusual graduate jobs are not only paying off the student debt; the boys are also managing to cross a few things off their bucket lists.
"We decided to try to create the ultimate one-year job, where we'd be paid to meet interesting people and enjoy ourselves", said Ed. "If what we do is fun, that's brilliant for us, and our advertisers are happy too, because we have a good collection of photos, tweets, status posts and blog entries"
On the 19th and 20th November, a web design company, Altitude Solutions Ltd., sent the boys on a skydiving training course, at the end of which, they jumped out of an aeroplane unassisted.
"BuyMyFace.com is all about doing things differently and we felt sending them skydiving would fit their ethos and ours. People have been talking to me about the stunt ever since and it's certainly driving interest in our company", Rob Dinsey, altitudesolutions.co.uk
As their website hits continue snowballing, companies are looking to send the pair to bigger and better places. Ernst & Young, one of the worlds leading accountancy firms, have just bought the faces of Harper and Moyse for a period of 10 days in December, and during this time, they will be sending the boys on a skiing trip to be attended by 3000 university students.
"BuyMyFace demonstrates how the nature of marketing is changing in a novel and innovative way. Ernst & Young are pleased to participate in their new venture and wish Ed and Ross the best of luck", Stephen Isherwood, Head of Graduate Recruitment, Ernst & Young
A Charitable Twist
Without break, Ross and Ed are painting their faces for 366 days, including birthdays, family occasions, and even Christmas.
"A novel aspect of our idea is that we don't have any days off, but we thought that in the festive spirit we'd treat Christmas day a little differently. That's why, for the 25th of December, we'll be auctioning our faces with all profits going to charity", Ross Harper
On 14th December, an ebay auction will open to buy Harper and Moyse's faces for Christmas day. The highest bidder will have their logo painted onto the boys' faces on Christmas, and all the proceeds will go to a charity, as chosen by a public vote hosted on BuyMyFace.com.
"We are short-listing charities that we'd like to raise money for, and from 1st to 14th December, our website visitors will be able to choose which one", Ed Moyse
###