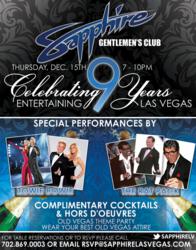 Las Vegas, NV (PRWEB) November 30, 2011
"Rat Pack" Theme Event also Commemorates the Name Change of Industrial Road to Sammy Davis Jr. Parkway.
Sapphire is celebrating their 9th anniversary as Las Vegas' premiere gentlemen's club and they are doing it in style. "Rat Pack" style that is, with music, martinis and more. Sapphire will also commemorate the street name change from Industrial Road to Sammy Davis Jr. Parkway. The Anniversary Party is December 15th and begins at 7pm with an open bar to 10pm, hors d'oeuvres, and many more surprises!
For those too young to know, the Rat Pack was a group of celebrity friends and buddies that whooped it up in Las Vegas in the 50's and 60's. The main members of the Rat Pack were Frank Sinatra (unofficial leader of the Pack), Dean Martin, Sammy Davis Jr., Joey Bishop, Peter Lawford, and sometimes Shirley MacLaine. They were known for not only being great entertainers but also for drinking, carousing, smoking cigarettes, and having a good old time which is what this anniversary celebration is all about!
Sapphire was the sponsoring land owner on Industrial Road to recommend the name change of Industrial Road between Twain and Sahara to Sammy Davis Jr. Parkway which would create an intersection near the Strip where Davis would be united with "Rat Pack" buddies Frank Sinatra (Drive) and Dean Martin (Drive).
Sapphire has volunteered to make a contribution toward the fees required by Clark County to facilitate the change. These fees cover new street signs and other expenses relating to the name change that effects over 90 addresses and many more businesses.
Rat Pack impersonators will be mingling with the crowd and crooning early in the evening to the swinging big band tunes played by the Zowie Bowie band that will be playing all night long. There will be drink specials, food, endless raffles and prizes (iPods, digital cameras, iPads and our grand prize: a VIP Skybox for the evening).
There will be over 400 of the most beautiful (and friendliest) women you have ever laid eyes on there for your entertainment. Retreat to one of 10 private Skyboxes overlooking the main floor for a more "intimate" party with your favorite one because really, it's the dancers that'll put that smile on your face in the first place.
Sapphire will be collecting unwrapped gifts that night for the holiday toy drive, so you're not only having fun and having drinks and eats in the company of beautiful ladies... but you'll also be helping out needy children this holiday season.
Sapphire, located at 3025 S. Industrial Road in Las Vegas, is the World's Largest Gentlemen's Club with 70,000 square feet of topless entertainment. Get to the club early or reserve a table today. Open 24/7 to patrons 21 and over, Sapphire serves the finest variety of cocktails, wines, champagne and cigars.
So break out the smoking jacket, grab the guys and girls and head to the Sapphire 9th Anniversary Celebration and join us for a champagne toast and a swinging good time! For table reservations call 702.869.0003 or book online at http://www.SapphireLasVegas.com. And for special offers and updates follow Sapphire LV on twitter @sapphirelv.
###