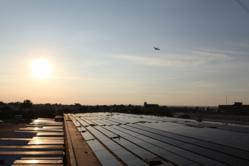 Green energy and green jobs are the future.
Elizabeth, NJ (PRWEB) November 30, 2011
Geoscape Solar is proud to announce that it has completed the installation of a 733Kw solar power system for Atlantic Central Logistics (ACL) in Elizabeth, NJ. The system consisted of 4,072 solar panels and nearly 10 miles of wiring. ACL expects to cover 75% of their electric needs by switching to clean, renewable solar power. The project created 35 green jobs in Elizabeth and will reduce carbon dioxide that is equivalent to planting nearly 65,000 trees over a 30-year system life.
Atlantic Central Logistics is Proud of Their Solar Choice
This solar project clearly showed customers, employees, and the community that ACL was concerned about the environment. But, ultimately, ACL needed to make it work financially. CEO, Robert Humes, noted, "Anyone can see that solar makes sense for business, but what Geoscape Solar brought to the table was the financial package and sophistication to get the job done." Geoscape Solar was able to deliver a creative financing solution, replaced their roof, and utilized a Geoscape Solar employee staffed installation crew (not outsourced) to deliver this stunning project.
A Greener Elizabeth is Good for Everyone
The city of Elizabeth has shown its commitment to green business. Popular Science magazine recently named Elizabeth as one of the top 50 greenest cities. Mayor J. Christian Bollwage believes that, "green energy and green jobs are the future." Elizabeth recognizes that companies like ACL and Geoscape Solar are helping deliver this future.
Geoscape Solar is Solar Done Right™
Geoscape Solar Founder and CEO, Michael Boches, observed that "companies like Atlantic Central Logistics and cities like Elizabeth are leading the way with innovative green thinking. Geoscape Solar was proud to partner with both."
Geoscape Solar is a rapidly growing New Jersey based solar power integrator offering sales, installation, design, monitoring, and financing. Launched in 2008, Geoscape Solar has pioneered the concept of Solar Done Right™ that focuses on offering the customer an unparalleled solar experience. Geoscape specializes in projects in the residential, commercial, and non-profit segments.
###