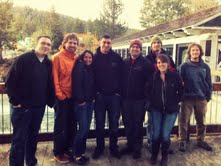 Dunsmuir, CA (PRWEB) November 30, 2011
For fifty years, the little town of Dunsmuir, CA has been experiencing a multi-generation economic recession. Now a new wave of twenty-first century tech companies has moved in. FireWhat Inc., an online firefighter resource, and Pusher Inc., a creative design agency specializing in web, video and mobile app production, have opened their doors for business.
Dunsmuir is a sleepy little town in far northern California. According to US Census Bureau data, some 1,650 people call Dunsmuir home. Seventy-five percent of the town is unemployed or in some way ineligible for work. This means the former town of 5,000 now survives on a tax base dependent on only four hundred twelve people.
Tourism is by far the largest sector of Dunsmuir's economy. Fishing the local Sacramento River, skiing on nearby Mt. Shasta, and eating at one of the many fantastic restaurants in town have created a charming little city. The atmosphere has begun to recruit a younger generation, lured away from the big city by the outdoor possibilities and affordable housing. Tech companies like FireWhat and Pusher can bolster the current economic situation by providing a sustainable service industry that is not dependent on the local economy or tourist visitation numbers.
FireWhat offers firefighters twenty-first century technology applications so the nation's finest can do their jobs more safely and efficiently. Their webpage, firewhat.com, offers training resources, a jobs search page, and a wildland incident mapping and tracking program through a partnership with NASA and Weather Underground. Through a joint partnership with Pusher, the wildland mapping and information software is now available as an iPhone app, through the iTunes App Store.
Pusher takes its name from the fabled early days of Dunsmuir when locomotives were added to the trains to push them up the steep grade to Mt. Shasta. As a modern creative design agency, Pusher strives to do extremely high quality work in a town that was built upon the principle of doing solid, high quality, highly-skilled work with your hands. They also take their role in the community seriously, facilitating events and workshops in their historic Dunsmuir storefront for local youth and providing a career path for local aspiring designers, engineers, makers and doers.
About FireWhat Inc.
FireWhat Inc. is a start-up company founded by an MIT grad and two professional firefighters. FireWhat's mission is to provide a professional platform that inspires the highest quality of emergency service training and education. Through development of web and mobile products, FireWhat Inc. seeks to update the antiquated delivery of emergency services training and to incorporate innovation into a technology-deprived industry.
About Pusher Inc.
Pusher is a creative design agency specializing in web, video and mobile app production. Staffed by designers, engineers and educators from the likes of Apple, Sony, Stanford and Harvard, the Pusher team performs best-in-class research, design, development and production services for niche experts who are ready to launch to the next step in their business or social enterprise.
# # #