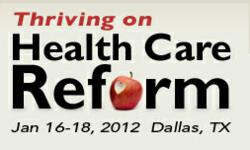 an historic gathering of Hospital and Nursing Home leaders will tackle the opportunities of Healthcare Reform
Dallas, TX (PRWEB) November 30, 2011
The 12th annual Healthcare Service Excellence Conference: Thriving on Healthcare Reform will be held January 16-18, 2011 in Dallas, TX.
Facing cutbacks in Medicare reimbursement, combined with the demand for increasingly higher levels of performance, competitiveness, and service, the role of healthcare leaders is being redefined. Managing in this environment requires current information, foresight, agility, and the ability to engage all stakeholders to consistently achieve moving targets.
Through sessions presented by industry thought-leaders, the Healthcare Service Excellence Conference will provide leaders of hospitals and long term and continuing care organizations with the information and skills necessary to take their organizations to new levels of care, patient satisfaction, profitability, and competitiveness. Particular focus will be placed on the steps necessary for both types of organizations to join and thrive as partners in Accountable Care Organizations (ACO).
Keynote speakers will include:
· Vince Poscente, CSP, CPAE, Hall of Fame, Bestselling Author and Olympian - Big Goals in Short Order
· Brian Lee, CSP - Leading the Healthcare Reform Revolution
· Clint Maun, CSP - Leadership that Affects Human Interaction.
· Dan Gray – The Power of the Continuum – The Integration of Your Mission.
· Val Cade, CSP – Bully Free At Work
· Kathy Pagana, PhD, RN - Balancing your life in the midst of change and chaos
· Mike Rayburn, CSP - What If…?
· Colleen Sweeney, RN, BS – The Patient Empathy Project – What Patients Fear and Why
· Michael Bayer, MBA, CSP – LEAN for Healthcare
· Steve Robertson, MHR – In the middle of everything else, we're going to do this too?
· Scott Seaborn, Administrator – Leading a Successful Service Excellence Transformation
· Cheryl Boldt, RN, LNHA – Nurses Leading the Day

Joseph R. Betancourt, MD, MPH Director, Achieving Equity in Healthcare: The Importance of Quality Interactions The Disparities Solutions Center Massachusetts General Hospital
Rebecca Smallwood, RN, MBA, Engaging Staff to Build a Culture of Service Healthcare Learning and Development Specialist Swank Healthcare
For CEU and registration information please visit http://www.HealthcareServiceExcellenceConference.com, or call 1800.667.7325.
###