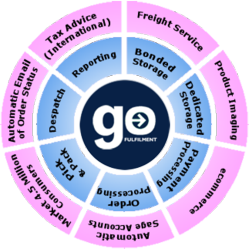 Sudden Massive peak in demand
Wigan, England (PRWEB) November 30, 2011
This second Go Fulfulment site operating from an enormous 650,000 sq ft warehouse is so flexible it can meet the needs of Daily Deal sites. John Robinson said on behalf of Go Fulfilment"The expansion into this 650,000 sq ft facility means Go Fulfilment is now able to meet extremely variable workloads. Many companies working with Daily Deal sites are able to provide fantastic offers, but don't always have the infrastructure to support the sudden massive peak in demands sites like Groupon can place upon them, especially during this current busy pre-Christmas period."
John when on to say "We have also found a number of companies have products, but don't have a online e-commerce platform to take orders. Our recent investment in Website platform technology means Go Fulfilment can provide website e-commerce for both on-demand projects or long term e-commerce Website needs."
Go Fulfilment has recently experienced unprecedented growth in its 3pl Logistics, and has therefore heavily invested in infrastructure and technology, which they claim has brought a completive advantage for them and their clients.
The recent expansion into the 650,000 sq ft site was chosen because of its central UK location and its ablity to accommodate the all clients. The site which is purpose build for pick and pack is also highly suitable to start-ups, in fact due to its size, Go Fulfilment we be able to offer onsite offices for companies who want onsite administration. Manchester and its surrounding areas are perfect for distribution because of the Central UK locations ensures good delivery services to all UK destinations.
Go Fulfilment, is a provider of fulfilment business solutions, Go Fulfilment is unique in that it offers companies services other than those typically offered by UK fulfilment companies. Many companies are looking for e commece in the UK and other services such as websites, marketing, SEO and paperwork in respect of tax and VAT.
Outsourcing shipping and delivery services enables international businesses to grow effectively in the UK and Europe, without worrying about employing staff and managing warehousing stock, ecommerce and the packaging of items for despatch.
Go Fulfilment is a UK fulfilment house dedicated to assisting with shipping and delivery for large and small businesses within across the globe. Go Fulfilment's history as a fulfilment house ensures it will offer clients a first-class return on their investment.
For more information, please contact
Brian.Taylor(at)GoFulfilment(dot)com or visit http://www.gofulfilment.co.uk.
###