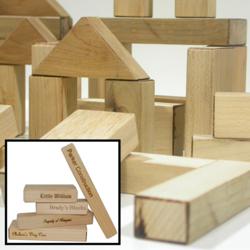 We combine "old school" hand made natural wood toy building blocks with state of the art laser engraving to form a unique, personalized children's toy
Vancouver, WA (PRWEB) November 29, 2011
Just in time for Christmas gift giving, WoodBlocksandMore.com has announced Laser Blox™, laser personalized editions of its popular natural wood building block sets. Hand made from recycled and reclaimed hardwoods, the toy building blocks are completely natural wood with no varnish, paint, lacquer or other finishes.
"Our wood building blocks are a uniquely green product hand made from recycled wood materials salvaged from Pacific Northwest mills," states Timothy C. Barry of WoodBlocksandMore.com. "The blocks are hand sanded and free from splinters and jagged edges. All natural wood with no paint, stain or varnish makes them safe for children of all ages."
Laser Blox™ Sets Available In A Variety of Sizes
Each toy block in a Laser Blox™ set is laser personalized with a name that will not wear off or fade. This makes it easy to sort out blocks for play dates, siblings, sets belonging to day care centers or kindergartens, etc. Hand made from a mix of assorted natural woods, this "retro" toy challenges and stimulates young minds to discover, imagine, problem solve and create towers, houses, castles, bridges, etc. Fun and educational. Block sets are available in a variety of block counts.
"We believe that we are the first to combine old school toy wood blocks with state of the art laser engraving to produce a unique, personalized children's toy," continues Barry. "We do all the laser engraving ourselves so our customers are assured of a quality product delivered promptly."
Other Wood Products Available
In addition to the Laser Blox™ laser personalized wood blocks, original wood block sets plus a number of other wood puzzles, games and products are also available in the online store at http://www.WoodBlocksandMore.com.
Pricing and Availability
Prices for Laser Blox™ laser personalized wood block sets begin at $36.95. Personalization normally takes 5-7 working days, depending upon ongoing order volume. Non-personalized block sets and other products normally ship from stock. For more information contact http://www.woodblocksandmore.com.
The http://www.woodblocksandmore.com store is a member of the ITI Web Stores group. For more information see http://www.itiwebstores.com.
###