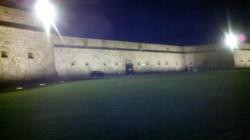 We're expecting a large crowd of mostly area residents to stop by
Newport, Rhode Island (PRWEB) November 30, 2011
The first annual Fort Adams Festival of Lights, an exciting new Christmas in Newport event, kicks off Saturday December 10, 2011 (rain date, Sunday December 11). Businesses needing to promote themselves and any group with a story to tell should participate. Hundreds of people are expected to attend with a full day of events and as a bonus, there are $250 prizes for the best trees in four categories.
After decorating the trees from 8:00 AM to 10:00 AM, there will be a day-long Christmas stroll with public viewing and voting. According to Laurie Labrecque of the Fort Adams Trust, "We're expecting a large crowd of mostly area residents to stop by the Fort over the course of the day. In fact, Viking Tours will be providing free trolley transportation from the Visitor Center hourly. This is a real opportunity for any group with a story to tell to reach people living in and visiting Newport in time for the Christmas season."
Keeping interest high all day will not be a problem. Mea Simanski of the Maher Center notes, "This is a family event. To entertain kids of all ages, there are school band & chorus performances; storytelling; a visit from Santa; train rides; and more. With hot soup and tasting portions of 'comfort foods' provided by Russell Morin Fine catering plus beverages and sweets, you'll keep the cold and hunger away. The tree lighting ceremony is scheduled for dusk."
Businesses, groups, schools, organizations and families of all sizes are welcome and encouraged to participate. The best tree in each of the following categories wins a $250 Cash Prize – Traditional, Themed, Nautical, and Imaginative. Winners will be featured in local media publications.
According to Labrecque, "There is a real opportunity for businesses to promote themselves by decorating their tree in a theme that supports the company. The same is true for non-profits."
The Fort Adams Festival of Lights key sponsor is Island Dental Health for the benefit of the James L. Maher Center and the Fort Adams Trust. Co-sponsors include Viking Tours of Newport and the Newport/Bristol County Convention & Visitors Bureau. This event is affiliated with Christmas in Newport.
Participating is very reasonable. Sponsoring a tree is $100 and includes one fresh-cut 6 – 8' tree, a name card, program listing, delivery of the tree to the Fort Adams Parade Field, set-up and electricity for your lights. Sponsors will need to provide their own decorations. Businesses wishing to promote themselves further can purchase an optional business card size Program Advertisement for $25.
After judging, participants can take their trees back to their homes or businesses or donate the tree to a family in need by signing up in advance with partner Child & Family Services.
For registration & volunteer forms contact Mea by phone at 401.846.0340 or at MeaS(at)mahercenter(dot)org. Laurie can be reached at 401.619.5801 (llabrecque(at)fortadams(dot)org). Please inquire about additional sponsorship opportunities.
The Fort Adams Festival of Lights is Saturday, December 10, 2011 [Rain Date Sunday, December 11]. Setup is from 8:00 AM to 10:00 AM. Entertainment, touring the trees and voting will take place from 10:00 AM to 6:00 PM. Votes are tallied at 6:00 PM, and the winners are declared. Birds Eye View helicopters will fly over the Fort between 12:00 and 1:00 PM and again for the tree lighting. Admission is $2 per person.
About the Fort Adams Trust: Founded as a 501C-3 non profit in 1994, the mission of the Fort Adams Trust is to direct and support the stabilization, restoration, maintenance, and operation of Fort Adams as a public historic site.
The James L. Maher Center, Newport, RI, is devoted to providing a broad range of services that advance independence and create opportunities for children and adults with developmental disabilities, their families and the community at large.
Note: Participation by the train is weather dependant.
# # #