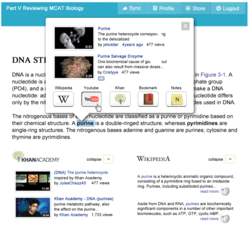 BenchPrep is revolutionizing the way students learn by adding thousands of free learning resources to their online and mobile courses.
Chicago, IL (PRWEB) November 29, 2011
BenchPrep, the education technology company that creates interactive and social learning courses for web and mobile, announced the release of OpenPrep, a new feature that augments thousands of open educational resources including Wikipedia articles, Khan Academy Tutorials, You Tube videos and integrates them with BenchPrep courses.
"The OpenPrep engine is fully automated and uses topic detection and ranking algorithms to analyze the contents of any course. It then builds a curated collection of online educational resources and uses award winning educational material from BenchPrep content partners as a lens to mine these resources for the most relevant content, instantly translating our courses into rich media experiences." said Jonathan Soeder, BenchPrep Lead Architect.
"YouTube and Wikipedia are knowledge warehouses, which rival the greatest libraries ever built yet they lack the structure and curriculum required to master a subject," added Frank Pinto, Creative Director at BenchPrep. "Our goal is to help students tap into this open knowledge base in an intuitive, convenient and engaging way while maintaining the academic structure of a course."
Students and teachers can also add their own resources (videos, articles, blogs and tutorials) and share it with their friends and peers who have signed up for the same course. This feature will be available to thousands of students who are using BenchPrep. If a student is studying for Oxidation and Reduction as part of their McGraw Hill Biochemistry course on BenchPrep, the OpenPrep engine will go out and find the best videos, articles and tutorials for this particular topic and show them right next to the course material.
Since the launch of their acclaimed learning platform, the company has partnered with best in class publishers including McGraw Hill and Cengage Learning (formerly Thomson Learning) to provide courses for standardized test prep, math, science, language, professional certifications and more.
Coming soon BenchPrep will also integrate resources from Wolfram Alpha, Pearson, Associated Press and more. Students will be able to vote ('like') the videos and articles that they found most relevant and helpful.
About BenchPrep
BenchPrep creates interactive and social learning courses from flat educational content.
BenchPrep courses can be accessed from any device (iPhone, iPad, Android, and web) in an interactive, personalized, social and game-like way. BenchPrep is the world's first and only learning platform that keeps the student's learning history and performance in sync across the web, mobile and tablet devices.
The company partners with best in class publishers including McGraw Hill, Cengage Learning, John Wiley to provide courses for standardized test prep, math, science, language, professional certifications and more.
The company was voted "most innovative and best-in-class test prep and assessment platform" at the 2010 Education Innovation Summit and won the 2010 New Venture Challenge competition at the University of Chicago Booth School of Business. BenchPrep has been featured in Wall Street Journal, NY Times, TechCrunch, Publishers Weekly and Fast Company as a leading education innovator.
Website: http://www.benchprep.com
iPhone/iPad app: bit.ly/benchprepapp
Android app: bit.ly/benchprepandroid
Video: http://www.youtube.com/watch?v=7i74X3je3KY
###