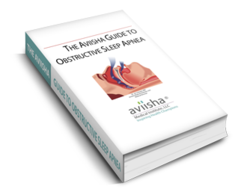 It is the only online guide of its kind, written by a certified sleep physician and covering both testing and treatment.
Los Angeles, CA (PRWEB) November 29, 2011
Disturbing forecasts have prompted the Aviisha Medical Institute, LLC to release a free guide to sleep apnea. A new study published in the Lancet predicts that by 2030, 164 million Americans will suffer from obesity. Given obesity's high correlation with sleep apnea, experts are beginning to brace for an obesity-sleep apnea epidemic of epic proportions.
Current estimates predict that 1 in every 5 Americans suffers from mild sleep apnea and 1 in every 15 from moderate sleep apnea or worse. These numbers are expected to climb in coming years, and yet most sleep apnea sufferers have no idea they have the condition.
"Studies estimate that between 80 and 90% of sufferers are undiagnosed and need treatment," said Dr. Avi Ishaaya, a sleep boarded physician and Medical Director of the Aviisha Medical Institute, LLC. "This is a serious problem when you consider how untreated sleep apnea can devastate the cardiovascular system and damage a person's quality of life." Sleep apnea has been linked to stroke, heart failure, diabetes, hypertension, depression, erectile dysfunction, memory loss, and more.
Underscoring the need to get more people tested and treated for sleep apnea, the US Department of Health and Human Services recently published its Healthy People 2020 goals in which increasing "the proportion of persons with symptoms of obstructive sleep apnea who seek medical evaluation" was listed as the primary objective for sleep health. "We have a serious lack of awareness that needs to be addressed without delay," said Dr. Avi.
A DIFFERENT SLEEP APNEA GUIDE
To help raise awareness and get sufferers tested and treated, the Aviisha Medical Institute, LLC has embarked on a wide scale campaign to educate, test, and treat. Its newest project is the Aviisha Guide to Obstructive Sleep Apnea, published by Dr. Avi. The guide is free to download and contains a wealth of useful information about sleep apnea. It is the only online guide of its kind, written by a certified sleep physician and covering both testing and treatment.
The guide is a tool for patients to learn about sleep apnea, its symptoms, consequences, risk factors, and treatment. The guide also contains questionnaires for patients to complete and give their doctor. The guide is free to download and share through Aviisha's relaunched website, http://www.Aviisha.com.
NEW WEBSITE WITH NEW FEATURES
In November 2011, Aviisha relaunched its website which contains more useful and shareable content. Some of the new additions to the website include:

Articles and videos explaining what sleep apnea is and who it affects
Sleep Apnea Educational Webinars (upcoming and prerecorded)
Infographics related to Sleep Apnea
A new Sleep Well Blog to stay current on news and announcements
Various online quizzes to assess one's risk for sleep apnea
Share buttons and social media links to help users connect
The new website does an excellent job of demystifying the home sleep test, a test that is offered by Aviisha as an affordable alternative to traditional laboratory testing. The home sleep test has gained popularity in recent years with both clinicians and patients because of its convenience, cost, and accessibility. Aviisha's Sleep Well blog is a way for users to stay current with the latest developments in sleep medicine and the sleep apnea community. The company plans on developing more content and launching new campaigns through its website and social media outlets.
For more information, please contact Aviisha at 877-634-7748 x112.
###