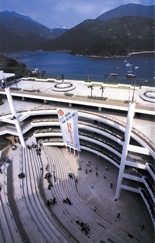 As in other recent recessions, international schools again demonstrate an amazing capacity to grow and thrive in the face of economic uncertainty
Hyannis, MA (PRWEB) November 29, 2011
The International Educator (TIE) released the results of a survey tracking enrollment trends at top international schools around the world. Of the 166 leading international schools included in the survey, representing every region of the world, 114 schools (69%) reported expanded student enrollment compared to last fall. "This is completely counter-intuitive to the daily barrage of dire economic news and prediction," stated Forrest Broman, TIE's executive director. "If the global economy is sputtering, one would expect to see a significant drop in international school students, many of whom are the children of expatriate employees."
According to ISC Research, a UK-based organization dedicated to analyzing, researching and tracking developments in the international school market, there are currently over 2.8 million students enrolled in international schools around the world, and that figure is expected to grow over the next ten years.
In fact, according to The International Educator's study, the average reported increase in student enrollment exceeded 10%, this past year alone. This growth is not just coming from the three relatively new schools who responded to the survey whose growth of 50% to 130% may skew the numbers. Removing these schools from the statistics, still results in an average enrollment increase of 9% over last year for the schools that participated in TIE's study.
Only 15 schools (9%) reported a drop in students enrolled compared to last year. The average percentage drop was 5.6%, with only two schools reporting decreases of 10% or more. "Although schools with declining enrollments may be reluctant to report their results, the overwhelming trend is hard to dispute with greater than two-thirds of schools reporting rising attendance, signaling the overall growth of the international schools market," said Broman.
Most schools that did not experience growth (22% of schools surveyed) stated that their enrollment was flat because they are at, or near, maximum capacity and are carrying waiting lists for many of their grade levels. These schools reported that in order to grow they would have to expand their physical facilities/campuses.
"As in the other recent recessions, international schools again demonstrate an amazing capacity to grow and thrive in the face of economic uncertainty," notes Broman. "One way some manage threatened declines has been to open previously restricted placements to more local nationals, a direction often rejected in the past to preserve the 'international' culture of their schools."
Not surprisingly, schools in Asian nations with growing economies report the strongest growth, with Africa a strong second. Virtually all the schools in China noted expansions of over 10%. ISR reports that Hong Kong's top international schools are swamped with applications and are facing record waiting lists. Hong Kong International School has seen a 27% increase in the number of applicants since 2006, and the number of students attending this year is the "highest in the school's 46 years," a spokesman for the school said.
Surprisingly, each of the schools reporting from Italy, Spain and Greece also documented student increases of 5%, 10% and 8%, respectively. Alan Austen, director of the American School of Milan commented: "We are experiencing an increase of approximately 5% this year. We have seen increases of 5% to 8% each year for the past five years. With Italy on the brink of economic meltdown we're not certain about next year but, at this point everything appears to be continuing on an upward trajectory," projected Austen.
Dr. Stefanos Gialamas, Head of the American Community Schools of Athens, Greece agrees, "We are at 900 (students) with an 8% increase this year despite the economic crisis. Six years ago we had 500 students. The increase is because local and third country parents recognize the value of an international education."
"There is no way to tell whether this amazing growth story will continue into 2012," states Broman. "But the strong attraction of an international education, in schools noted for their quality and results, with resilient and effective leadership, suggests that international schools have a promising future in the landscape of global education."
The International Educator (TIE), located in Hyannis, MA, is a non-profit organization that for 25 years has been dedicated to developing links among teachers and the extensive American and international schools network worldwide. TIE publishes a quarterly newspaper featuring the latest in international school news and developments for K-12 educators around the world. TIE's website, tieonline.com, offers the widest selection of K-12 teaching and administrative jobs available anywhere in the world.
###