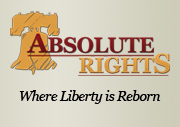 We are very excited to bring our growing team of experts to the fight for preserving our rights in this country!
Austin, TX (PRWEB) November 29, 2011
AbsoluteRights.com announced today the launch of its website featuring daily articles from legal, financial, political and survival experts that bring the latest and most informative opinions on current events and issues that threaten the rights that many Americans take for granted.
"We are very excited to bring our growing team of experts to the fight for preserving our rights in this country," commented James R. Gorrie, Associate Publisher of AbsoluteRights.com and Managing Editor of both AbsoluteWealth.com, a high profile financial website, and The Empire Report with George Ross, a premium financial newsletter.
"It is no secret that we face a struggle on all fronts to safeguard the individual rights provided to all Americans in the Bill of Rights," Gorrie said, "and unfortunately, there are those in positions of power who think that we have too much democracy, too many freedoms. It's both a crime and an outrage, and Absolute Rights will do its part to protect and restore what rightly belongs to all Americans."
Absolute Rights will feature daily contributors on all subjects related to constitutional rights, abuse of power, both political and in law and law enforcement, as well as financial threats to Americans, and emergency/disaster survival tips and techniques.
"We have some terrific writers who are very knowledgeable in their areas of expertise, including Tim Schmidt, Damian Campbell, Wallace Streete, and others coming on board," James R. Gorrie explained, "as well as a very capable Managing Editor in Emil Prelic, a political writer, filmmaker and émigré from the former Yugoslavia, who knows firsthand what it's like to have and enjoy the rights guaranteed by our Constitution, and perhaps more importantly, what it's like to not have them."
Both James R. Gorrie and Emil Prelic will also contribute articles to the site as well as provide interviews and guest contributors.
Absolute Rights fills a very deep void in the political and economic rights space, with its finger on the pulse of the American political scene, as well as providing in-depth analysis on news and events around the world.
"Absolute Rights is a very hands-on, proactive and practical place for Americans who are concerned about what's happening to their country and just what to do about it," Gorrie added.
"We anticipate a tremendously successful launch of Absolute Rights," Mr. Prelic said, "and when you know what it's like to live under oppression and then taste freedom, you don't ever want to go back. I refuse to do so," Prelic said with defiant confidence.
The motto for Absolute Rights is "Where Liberty is Reborn." Its mission is to resist the growing tyranny of the progressive of the far left. It is quite evident that Absolute Rights takes both very seriously.
###