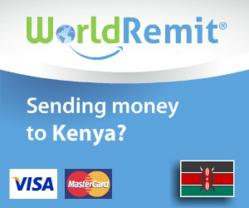 The new WorldRemit service enables customers to send money to Kenya from the privacy and convenience of their own home
London & Montreal (PRWEB) November 29, 2011
WorldRemit, the leading online money transfer company, has expanded its online money transfer service to Kenya offering a new range of pay-out options including instant cash pickup, bank deposits to any bank and transfers to mobile accounts.
The instant cash pickup service is now available at more than 35 locations nationwide. The bank deposit, which is normally a same-day service, compliments the cash pickup and transfers to mobile accounts.
With fees starting as low as £2.99 (or $5.99 in Canada) for transfers of up to $100, the new service offers more competitive prices than informal networks that have traditionally dominated this corridor.
The new WorldRemit service enables customers to send money to Kenya from the privacy and convenience of their own home using a variety of payment options including debit cards, credit cards and Interac Online. All they require is Internet access, eliminating the need to take time off to visit an agent location.
About WorldRemit
WorldRemit, regulated by the Financial Services Authority (FSA) for the provision of payment services, is an innovative online money transfer business enabling customers to send money to family and friends back home. WorldRemit now offers online money transfers to 38 countries.
WorldRemit has built a robust compliance system that eliminates common problems and risks associated with money laundering and card fraud in international money services. All website transactions are secured using the highest level of online security.
###