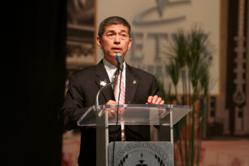 This project will culminate in the 2011 "What Works" Conference, to be held in Mexicali, Mexico on 5-6 December 2011
Mexicali, Mexico (PRWEB) November 29, 2011
As part of their year-long 50th Anniversary celebration, CETYS University will host educators from around the world in Mexicali. On December 5th, CETYS President Dr. Fernando León-García will formally kick off the two day event organized jointly by the Organization for Economic Co-operation and Development (OECD) and the Consortium for North American Higher Education Collaboration (CONAHEC).
Dr. León-García stated that the conference will share the results of recent case studies on quality teaching efforts facilitated by OECD and serve as a forum to discuss possible implications for best practices around the world. The event will include educators from a wide variety of countries including but not limited to Brazil, Canada, Chile, Slovakia, Spain, Finland, France, Hungary, Japan, South Africa, Switzerland, Turkey, the U.S., and Mexico.
Main topics to be included are:

Measuring quality teaching
Aligning the constituents of quality teaching within the institution
Supporting, valuing and rewarding university teaching
Engaging students in the teaching process
Professional development for faculty and curriculum development
Organizational change
Use of ICT for quality teaching
The conference will be held in English and participation is open to Higher Education Leaders, Researchers, Students and Administrators. To register, please visit: http://www.oecd.org/edu/imhe/whatworks or e-mail Dr. Helia Cantellano at helia.cantellano(at)cetys(dot)mx
CETYS University: Founded in 1961 by a group of businessmen concerned about the lack of a quality workforce to support business and community interests along the northern border of Mexico´s state of Baja California, CETYS Universidad has evolved into a highly respected and influential private nonprofit University System.
CETYS is a leader in taking Mexican Higher Education to the forefront of national and international competitiveness. Headquartered in Mexicali with three campuses, located in Mexicali, Tijuana, and Ensenada, CETYS continues to flourish and make a name for itself as one of the top university systems in Mexico.
# # #