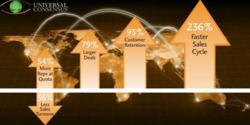 "The efforts of Blue Ocean strategists and thought leaders in cross cultural consulting makes this a compelling proposition at a time when stagnated business economies need it most."
San Diego, California (PRWEB) November 30, 2011
Launched today, 'Blue Ocean Strategy across Cultures' is a cutting-edge framework for international revenue growth and innovation. The Blue Ocean Strategy consulting firm, Strategize Blue, and cross-cultural consulting firm, Universal Consensus, have partnered for the first time to produce the consulting and training platform, 'Blue Ocean Strategy across Cultures.'
Blue Ocean Strategy, based on the bestselling book by award-winning INSEAD professors W. Chan Kim and Renée Mauborgne, is widely regarded as the most significant business strategy of the 21st century. Blue Ocean Strategy is the scientifically proven strategy for getting companies out of shark infested red oceans of competition by creating blue oceans of uncontested market space ripe for growth.
Universal Consensus developed the Business Model of Intercultural Analysis (BMIA), a proprietary model designed to propel growth and optimization in international markets. This model has helped Fortune 500 companies grow sales in foreign target markets by an average of 27%.
"By adding our capabilities to a cutting edge tool like Blue Ocean Strategy, we are observing compound benefits that yield immediate and broad results," says Universal Consensus CEO Denise Pirrotti Hummel. She continues, "With this combined framework, we will help solve two of the biggest issues in American business life today, lack of innovation and lack of the cross-cultural core competence necessary to be successful across borders." Pirrotti Hummel concludes, "The efforts of Blue Ocean Strategists and thought leaders in cross cultural consulting makes this a compelling proposition at a time when stagnated business economies need it most."
Strategize Blue is a leading Blue Ocean Strategy firm associated with the Global Blue Ocean Strategy Network. Strategize Blue clients include The Coca-Cola Company, Intel Corp., and Hewlett-Packard Company. Universal Consensus is a leading consulting firm for driving profit across cultures. Universal Consensus clients include FedEx, Whirlpool, Qualcomm, WD-40, the Pentagon, and the U.S. State Department.
###