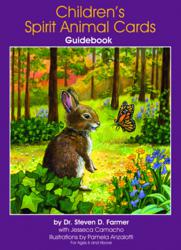 "As soon as the cards arrived, we were shipping orders all over the United States and have now shipped them to over 40 countries," says Satiama.com co-founder Karen Stuth.
Palmer Lake, Colorado (PRWEB) November 30, 2011
One local company with a vision to make tools for personal growth and spiritual connection available to millions of people around the world has recently received multiple awards for its own first published product for children and their caregivers.
Satiama.com, a privately held, family-operated company, has just received the Creative Child Magazine 2011 Seal of Excellence, the Mom's Choice Award Gold Medal and the Parent Tested Parent Approved Seal of Approval for its Children's Spirit Animal Cards, which were launched in June 2011. These prestigious awards, which are given after a thorough screening and selection process by both industry professionals and real parents, affirm the vision of Satiama to be a global resource for life enhancing products and educational programs.
"We are delighted with the runaway success of Children's Spirit Animal Cards – Satiama's very first published product. It means so much to my sister and me to be a part of something so that we are told is deeply enriching to parents and children alike," says Satiama.com co-founder and long-time Palmer Lake, Colorado resident Karen Stuth. "As soon as the cards arrived, we were shipping orders all over the United States and have now shipped them to more than 40 countries. Our marvelous authors, Dr. Steven Farmer and Jesseca Camacho, and our talented illustrator, Pamela Anzalotti, were a delight to work with – they were just a dream team. We are very grateful for how Children's Spirit Animal Cards have already positively touched so many lives and also opened up a whole new landscape of opportunities for Satiama."
Children's Spirit Animal Cards are the fulfillment of Dr. Farmer and Stuth's shared vision to have children and families deeply connect with nature and discover there the tools for living peaceful, meaningful lives. These imaginative cards provide children ages 6 and up with beautiful, age-appropriate messages of love and guidance to help them as they develop and mature.
Children's Spirit Animal Cards include a deck of 24 stunningly illustrated full-color cards, each of which features a particular spirit animal to guide children in their personal growth and development with simple yet profound messages. These include the importance of self-love, kindness, and respect for others and the natural world, how to appropriately use their personal voices for empowerment, and how to channel their feelings to the positive
According to Stuth, an accompanying guidebook by Dr. Farmer helps children to use the cards and provides additional insight about each of the lessons animals are here to teach. A Guide for Parents section shares ideas for further connection and suggests activities geared toward building family relationships and nurturing spiritually-centered children.
The Earth-centered approach to teaching children about life's most important lessons offered by Children's Spirit Animal Cards encourages them to take full responsibility for their own habits, feelings and ideas, empowering them to create their world as an even better place. By teaching children the virtue of loving and respecting themselves and others, the cards are a foundation for habits and values that they'll take with them throughout their lives.
For more information about Satiama and/or to purchase Children's Spirit Animal Cards, visit http://www.Satiama.com or call 1-866-684-6466. The cards are available for US $14.99 and Canada $18.95 via the Satiama website and other select independent retailers in North America.
ISBN 13: 978-0-9832687-0-3
Samples of card illustrations are available by request.
Media Contact: John Stellar & Kate Romero-Stellar / Stellar Communications. Call 800.858.2712 / 818.506.9132 or write john@e-pr.com and kate@e-pr.com.
About Satiama.com
Satiama is a passion project conceived and nurtured by Karen and Susan Stuth, sisters with a shared vision. Satiama was founded to offer inspired words and tools to assist each of us to more deeply connect with and honor our true selves and our true nature, to increase our respect, compassion and love for one another and Mother Earth, and to foster and cultivate our connection to something transcendent. For more about this innovative community and movement go to http://www.Satiama.com.
###