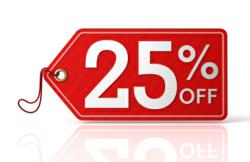 Ties-Necktie.com is the internet destination helping men get through the holidays in style.
San Francisco, CA (PRWEB) November 29, 2011
There's no better way for a man to prepare for the holiday season than to click over to Ties-Necktie.com, the internet's most trusted source for ties and other men's accessories. To thank customers for their business and loyalty, the online retailer is extending its Cyber Monday promotion one more day. Shoppers can receive excellent deals on neckties, bowties, ascots and more, all throughout the day on Tuesday, November 29th 2011. The coupon code: CyberMonday2011 will get 25% off his or her entire order. (The promotion will end at midnight PST). It is the biggest discount the site has offered all year, with free shipping on all tie orders over $100 as an added bonus.
Internet entrepreneur and Ties-Necktie.com founder Hendrik Pohl is excited to be offering the promotion. "We're seeing such a big demand for affordable, high quality neckwear this holiday season. At Ties-Necktie.com, we think of our customers and their needs first, so we're thrilled to extend our Cyber Monday promotion one more day."
"Now, customers can have a tie for each dinner, office party and event they attend this holiday season. Our accessories also make great stocking stuffers and holiday gifts. Every well-dressed man can use more ties or a new pair cufflinks. Ties-Necktie.com is the internet destination helping men get through the holidays in style," Pohl added.
One major fashion trend for the season is the tie bar, which fastens ties to men's dress shirts. With a selection available at Ties-Necktie.com, tie bars, once hard to find, are making a fashion comeback and make an ideal stocking stuffer.
Some men may prefer that Santa bring them a stylish bow tie. With bow ties available in every color of the rainbow, including, of course, bright red and dark green (perfect for getting into the Christmas spirit), Ties-Necktie.com is the go-to source perennial classic.
Whether one is shopping for a husband, son, father, uncle or boyfriend, Ties-Necktie.com carries holiday gift options for every man in the family. For the dapper, chic man the site offers pocket squares in a variety of beautiful prints. The Paisley Red Handkerchief adds a festive touch to any suit, the Navy Checkered Pocket Square brings a dash of elegance to any ensemble and the Modern Plaid Pocket Square in Orange is an unique accessory that upgrade any man's look from grungy to glamorous.
###