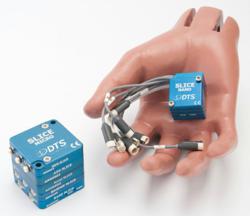 Seal Beach, CA (PRWEB) November 30, 2011
DTS, a leading manufacturer of data recorders and sensors, partnered with engineers at NASA's JPL and scientists at Raytheon to perform a variety of extreme testing in an effort to quantify pressure and temperature performance ranges for the ultra-small SLICE data acquisition system.
NASA testing involves both low pressure and temperature extremes. To simulate the density of the altitude on Mars, a balloon is floated to an Earth altitude of ~37,000 meters in the outer stratosphere. In addition, temperature conditions of -50°C to 90°C are tested using a thermal vacuum chamber. The SLICE data recorder performed well, meeting or exceeding NASA's requirements, and resulting in a significant purchase of SLICE NANO.
Raytheon required similar pressure sensitive test equipment and, in a variety of tests performed by their engineers, the SLICE system again received high performance ratings. Raytheon relies on SLICE MICRO for accurate measurements during flight testing of an instrumentation pod that attaches externally to military aircraft.
As new applications for the SLICE platform are found, DTS will continue to pursue unusual and unique testing opportunities to ensure our data acquisition systems and sensors perform in the most challenging environments. SLICE is available in two models: SLICE NANO and SLICE MICRO.
DTS products have a 21-year history of performing well in challenging environments. Calspan-University at Buffalo Research Center (CUBRC) in New York has also performed similar pressure and temperature testing on DTS's TDAS G5 data recorder with exceptional results. As a result, CUBRC has been testing successfully for several years using TDAS G5 systems in hypersonic wind tunnels at pressures simulating very high Earth altitudes.
About DTS: Since 1990 DTS has been a leading manufacturer of data acquisition systems and sensors for dynamic, high shock product testing. Based in Seal Beach, CA, DTS has global offices in Michigan, Australia, China, Germany and Japan. Visit http://www.dtsweb.com for more information on the full line of DTS products and services.
###