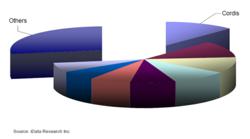 The peripheral vascular stent market is also expected to see strong double-digit growth fueled in part by sales of covered stents
Vancouver, BC (PRWEB) November 29, 2011
According to a new report by iData Research (http://www.idataresearch.net), the leading global authority in medical device market research, the U.S. peripheral vascular device market was valued at over $3.8 billion in 2011. The market is expected to grow rapidly to over $7.1 billion by 2018 fueled by sales of peripheral vascular stents, stent grafts, chronic total occlusion (CTO) devices and increased use of transcatheter embolization devices for new indications such as cancer and stroke treatment.
"Transcatheter embolization devices, which are used to occlude blood flow within the vasculature, are expected to be the fastest-growing segment in the overall peripheral vascular market," says Dr. Kamran Zamanian, CEO of iData. "Their uses are going beyond the treatment of aneurysms and other arteriovenous malformations and are being used in the treatment of growths, cancers and stroke. In particular, sales of particle embolics, which can deliver drug-coated and radiolabeled beads for targeted drug delivery and radiation therapy, are estimated to grow at double-digit rates through 2018."
The report states that Cook Medical leads the transcatheter embolization device market but was followed closely by Boston Scientific who leads the particle embolics segment with their Contour® PVA Embolization Particles.
Additionally, the CTO segment is expected to more than double in value by 2016 due to new device indications. C.R. Bard's Crosser® catheter recently gained approval for use in atherectomy procedures and other market leaders, such as Cordis, may follow-suit as atherectomies have a higher reimbursement than CTOs.
"The peripheral vascular stent market is also expected to see strong double-digit growth fueled in part by sales of covered stents," says Dr. Zamanian. "W.L. Gore remains the market leader and has released lower profile stents with smaller diameters to access more difficult vasculature such as below the knee (BTK) areas which is seeing rapidly growing demand. C.R. Bard and Atrium Medical are battling for second place in this market."
W.L. Gore was also the leading competitor in the stent graft market with their minimally invasive Excluder® AAA and TAG® thoracic endoprostheses products. However the company's market share has been challenged since the introduction of competing devices by Medtronic and Cook Medical. The market for stent grafts, which includes abdominal aortic aneurysm (AAA) and thoracic aortic aneurysm (TAA) stent grafts, is estimated to almost double in value to over $1.3 billion in annual sales by 2018. Approximately 80% of people in the U.S. who suffer from aortic aneurysms are undiagnosed and growth in this market will be driven by new ultrasound and CT screening methods.
iData's U.S., European (15 Countries) and Asia-Pacific (3-Countries) reports on the: Markets for Peripheral Vascular Devices provides a comprehensive analyses of: CTO devices, transcatheter embolization devices, PTA balloon catheters, stent-grafts, surgical-grafts, inferior vena-cava filters, catheters, guidewires, introducer-sheaths, arteriovenous access thrombectomy devices, vascular-closure devices and more.
For more information, register free on iData's website at:
http://www.idataresearch.net/idata/registration.php
About iData Research
iData Research (http://www.idataresearch.net/idata/discoveridata.php) is an international market research and consulting group focused on providing market intelligence for medical device, dental and pharmaceutical companies. iData covers research in: peripheral vascular, vascular access, cardiology, cardiac rhythm management, endoscopy, orthopedics, dental and more.
###