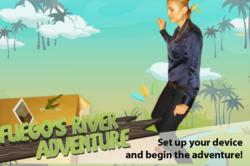 Our hope is that this becomes the standard in mobile gaming for motion and gesture recognition
Haifa, Israel (PRWEB) November 30, 2011
In a move that will transform the way games are played on iOS, Crimson Apps' newest game, Fuego's River Adventure, shows that touch gameplay is only the beginning of what the iPad has to offer.
Fuego's River Adventure was created to show off the LokkoMotion technology, using real-time smart detection and processing technology to connect players to the game. By using the front camera of the iPad, the technology allows the player's motions to control Fuego by jumping, moving and running side-to-side. Best of all it requires no additional hardware to the devices themselves.
The technology behind the game works in two ways: first by capturing and storing the images from the camera, then analyzing the captured images and recognizing movement changes to locate their current position.
"This is just the first step for us," said Omri Argaman, one of Crimson Apps' cofounders. "Very soon we'll be putting out a software development kit that includes this technology so other companies can use it in their games as well. Our hope is that this becomes the standard in mobile gaming for motion and gesture recognition."
The game itself puts players in control of Fuego, whose vacation has suddenly taken a turn for the worse when his plane crashes. Left in the jungle, he constructs a raft to escape. Players move Fuego along the river, avoiding crocodiles and obstacles, while collecting food and gold to trade with in order to survive and find a way home.
Using the camera as the main control mechanism also allows for some great candid shots of players, which are displayed at the end of each level.
It's the technology, however, that really pushes this game forward. Fuego's River Adventures gives players the opportunity to have fun in their own environment in an innovative and unique way, while showing off the future of gaming and working up a sweat while doing it.
The app is currently available in the iTunes store for the iPad only, at a launch sale price of $1.99.
To check out Fuego's River Adventure in the iTunes Store, click here: http://itunes.apple.com/us/app//id478994144?mt=8
To check out the trailer, click here: http://www.youtube.com/watch?v=KK5m9qriHX8
To check out some screenshots, click here: http://photobucket.com/fuegoriveradventure
To check out the app's website, click here: http://www.fuegosadventure.com
Crimson Apps: Our goal is simple: to change the way people interface, play, and control their mobile devices. We believe that human interaction is more than just speech or touch, it is our body language and movements. And our mobile devices should be controlled the same way.
###