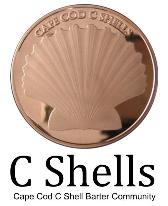 Falmouth, Massachusetts (PRWEB) November 29, 2011
Saturdays are a barterers dream in Falmouth, at least every other Saturday is. Meeting at the Cape Cod Bagel Cafe is the Cape Cod Barter Crew. They invite discussion of how to increase community awareness of barter and suggestions of ways barter can increase the community support of various local charities. All are invited, visit the Cape Cod Barter Crew to RSVP.
Cape Cod C Shells Inc, aka Cape Cod C Shell Community Barter, is a newly established barter community dedicated to keeping the wealth within a community. Barter medallions are becoming more popular daily due to the efforts of the American open Currency Standard (AOCS). Merchants within the C Shell community agree to accept AOCS approved medallions in trade for goods and services. It is expected the C Shell medallion will receive high recognition within the collector arena, as well. The medallion can be seen at LetsTradeCShells.com.
A Cape Cod C Shell is a .999 fine copper round minted with a shell on one side and a silhouette of Cape Cod on the other. More than that, it represents the return to older ways and forms of money. Barter has existed for well over 2000 years. Historically, when a metal has been selected for "currency" it has always been copper, silver or gold. The Eastern seaboard Indian tribes traditional form of currency was the Quahog clam shell. When cut and polished into pieces called Wampum, it was universally recognized in the Indian communities as currency. The combining of these two ancient forms of currency led to the selection of the C Shell theme.
"If sea shells worked for the early settlers of Cape Cod then C or (Currency) Shells made of copper, silver and gold should work for the current inhabitants of the Cape and surrounding area and bring us back to a more basic understanding of what constitutes living," said Bob Barker, President, Cape Cod C Shells Inc.
The history of Cape Cod C Shells: Cape Cod C Shells was started because of the need to help people prepare for what is the inevitable collapse of the fiat US Dollar. Mr. Barker says, "The question is not if the dollar will collapse, but when." He further stated, "Being prepared is a great way to help the US survive the economic turmoil to come."
###