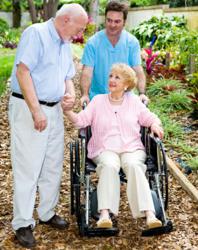 With the current state of the economy, many families are having a difficult time finding the money needed when faced with the issues of buying mobility products
New York, New York (PRWEB) November 29, 2011
The huge range of mobility products available today has helped millions of aging and disabled people across America. As the baby-boomers enter retirement, they are taking advantage of the huge selection of extremely useful mobility aids to help keep them mobile and moving, and they also know how to do it in style. That being said, some of the more modern and trendy looking mobility aids and equipment can come at a hefty price. As some top of the range mobility scooters and electric power chairs can cost as much as a new car, this is forcing more and more families to look at leasing the mobility aids or looking at buying reconditioned models.
Sara Jayne from US-Mobility.com says that her web site is seeing a big increase in the number of searches from people looking to rent mobility equipment. Sara explains "With the current state of the economy, many families are having a difficult time finding the money needed when faced with the issues of buying mobility products and aids to make their home more accessible. With the age-wave we have upon us now, there is a huge demand for affordable mobility equipment. Many Americans just want to enhance their senior years by ensuring they have all the gadgets that can make life easier, but many are trying to save money by ensuring they can remain in their own home instead of incurring additional nursing care expenses."
The market for stair lifts has grown as people attempt to adapt their existing living space rather than move into somewhere purpose-built. The installation of a stair lift can save thousands compared to the costs incurred by either moving or requiring a full-time home carer. The US Census Bureau's 2010 Community Survey revealed that 66% of Americans 60 and over are currently living in their own homes. They are choosing to 'age in place', as they cannot afford the cost of moving to nursing care or retirement care homes. To put this age-wave into perspective, globally we had approximately 605 million over 60s in 2000, by 2050 that figure will reach 2 billion, and for the first time in history, seniors will outnumber the population of children under 14!
This senior population explosion is already being felt by some families, and most now realize that they need to save costs to sustain their long-term senior care. US-Mobility.com was launched last year and aims to help families understand what mobility aids are available and help in locating local mobility suppliers. "We are trying to ensure that people can find the right mobility aid, at the right price, at their time of need" Sara explains, "the increase in searches for rental and reconditioned mobility scooters is really only the tip of the iceberg! There is going to be a huge demand for a whole range of services and products to facilitate aging in place. More people will be seeking out help with elderly care, and US-Mobility.com will continue to add to its portfolio in an effort to support our aging population and their families."
About US-Mobility
US-Mobility.com is a web-based mobility product guide and mobility supplier directory for new and used mobility scooters and power wheelchairs across the United States.
###