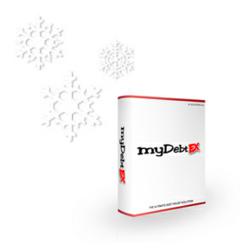 Helping people prevent and eliminate debt is rewarding," said Luke Veitch, Senior Vice President of JLL Solutions.
Freeport, IL (PRWEB) November 29, 2011
As the creators of myDebtEx, the complete do-it-yourself debt relief software program, JLL Solutions realizes the importance of helping people take ownership of their finances, especially in preventing and/or eliminating debt.
"Helping people prevent and eliminate debt is rewarding," said Luke Veitch, Senior Vice President of JLL Solutions. "Throughout the development cycle of myDebtEx, customer feedback provided JLL Solutions with invaluable insight, but most importantly, we learned a lot about how people get into debt. It is impossible to understand how to help people stay out of debt, if you do not understand how people get into debt. A lot of the subconscious goes into buying behaviors. The only way to counter this is by planning ahead before making major purchasing decisions, and of course, before spending during the Holidays."
Holiday Tip Sheet for Staying out of Debt
(1) Plan Ahead: Preparing for the Holidays one year in advance is the most prudent way to stay out of debt during the Holidays. Keep track of and evaluate spending patterns from the previous year, and start making bi-weekly, weekly or monthly deposits into a separate bank account set-up specifically for the Holidays. This may sound extreme, but depositing $10 to $100 a month can help out a lot.
(2) Budget: Create a budget and stick to it. Remember not to overlook the little things like fuel and dining out at restaurants. Eliminate or cut back on some of these luxuries during the Holiday season.
(3) Traveling and Miscellaneous Expenses: Think about the cost in traveling and staying at hotels. Consider increased fuel cost when driving and buy plane tickets ahead of time. Travel also includes driving to pick up gifts. A planned route can save on time and money.
(4) Establish a Holiday Shopping List Early: Create a list of people who will receive gifts and set a limit on how much will be spent on each person. Remember, it is not necessary to fulfill everything on one's Holiday list. Be creative. This could include making gifts instead of purchasing them.
(5) Cash versus Credit: Pay with cash if at all possible, but if credit cards cannot be avoided, make sure there is enough money to pay back the balance in one to two months. Also, if possible, use a 0% APR card if one is available as a preventative measure against high interest rates.
(6) Shop Early: Waiting until the last minute to shop may lead to impulse buying. Bargains and discounts are more difficult to find for last minute shoppers.
(7) Pool Money: Get family and friends involved when making expensive purchases, such as, major appliances.
(8) Shop on the Internet: Shopping on the internet has many advantages. One can shop for discounts without having to waste fuel and time.
(9) Beware of the Up Sells: Electronics usually present the greatest opportunity for a sales person to up sell a customer. There are a number of ancillary products that go with electronics, so buyers beware. Another up sell opportunity is warranties. Warranties can be beneficial, but be careful; sometimes warranties do not offer much benefit for the cost.
(10) Keep Track of your Spending: Keep track of spending. This includes staying as close to budget as possible. If overspending occurs, make provisions to cut spending elsewhere.
Happy Holidays from JLL Solutions LLC!
Availability
The latest version of myDebtEx is available at the JLL Solutions internet website: http://www.mydebtex.com
To learn more about myDebtEx and strategies to get out of debt, please visit http://www.mydebtex.com/overview.html
About JLL Solutions
JLL Solutions is an Illinois based company that delivers state-of-the-art technology solutions to the financial, real estate and health care industries. As a global provider of software development and software products, JLL Solutions provides industry professionals and consumers with software applications that are user friendly and that bring value to their unique situation.
More Information can be found at http://www.jllsolutions.com
# # #