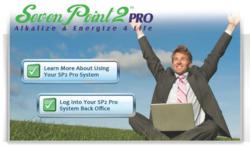 The technology NaXum brings to Veracall's clients has been a game changer for their online businesses.
Atlanta, GA (PRWEB) November 30, 2011
Veracall Digital Marketing http://www.veracall.com based in Atlanta, Georgia and NaXum Online Marketing Systems http://www.naxum.com out of Houston, Texas have joined forces in developing a custom CRM-M Back Office System for SevenPoint2™ http://www.sevenpoint2.com - a revolutionary new alkaline health & wellness company led by Jason Boreyko, CEO & Co-Founder. Located at http://www.sevenpoint2pro.com, the SP2 Pro system takes the top cutting edge tools available in networking today and integrates them in an easy-to-use system. Distributors gain access to an entire suite of marketing services to help manage and grow their online businesses. Some of the system tools include a CRM-M contact manager, lead capture pages, tour sites, reoccurring webinars, video email, auto-responders, text message alerts, and so much more.
Branded as the SP2 Pro system, NaXum has added yet another robust and scalable system to its bag of technology tricks. From building the incredible CRM-M engine that powers Luxor Casino's operations to implementing custom systems across the US, NaXum provides the resources required to build world class systems.
"The technology NaXum brings to Veracall's clients has been a game changer for their online businesses. For the past three years, I've personally been working with NaXum in the areas of digital design and systems integration," said Justin Kerrihard, Veracall's Vice President & CCO. "The NaXum team has quite an obsession with cutting-edge technology trends and digital marketing standards. Their customer support is by far the best I've ever worked with," said Kerrihard.
Currently, SevenPoint2™ is five months ahead of schedule. Within the first four weeks of opening its doors, the company generated $500,000 in product sales. Now with the addition of the SP2 Pro system, it's clear the company is headed for massive online growth in the near future.
About Veracall Digital Marketing:
Veracall Digital Marketing's mission is to provide the necessary tools, training and technologies to create and capitalize on emerging business opportunities. The team consists of expert branders, graphic designers, internet marketers, technical specialists and project managers
About NaXum Online Marketing Systems:
NaXum Online Marketing Systems is one of the country's leading Internet Marketing service providers. NaXum CRM-M Cloud Systems create custom, best-in-class module based marketing and recruiting platforms for clients.
###