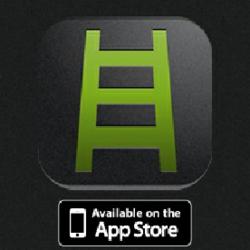 Our students who have done 100 or more rounds of SATLadder have all reached or surpassed their goal scores on the SAT
Hamden, CT (PRWEB) November 29, 2011
High schoolers entering college in Fall 2012 are getting ready to take the SAT college entrance exam the new-fashioned way – by sharpening their skills while playing SATLadder, the iPhone app game that makes preparing for the SAT fun!
With test dates for the SAT once a month between October and January, and test dates in March, May, and June, there is always a high school student somewhere who is preparing for the SAT. SATLadder is here to make the preparation process fun for that student.
SATLadder is an interactive, fast-paced game that shoots SAT-styled questions at players to answer quickly and correctly so they can move up the 'SATLadder'. Competitors climb head-to-head against friends or random competitors by answering questions drawn from any of the three sections of the SAT®: Critical Reading, Mathematics, or Writing. By answering the questions correctly and quickly enough, players can climb all the way to the top of the Ladder. The best part? Their SAT® scores will climb with them.
Released in May 2011, SATLadder was a featured app in the App Store in August and September, and was noted as 'new and noteworthy' under the iPhone Education apps. Its developer is The Learning Edge, an 8-year old Connecticut-based tutoring firm run by founder Mark Anestis. With so many high school students equipped with mobile devices now, SATLadder is the perfect learning app game to complement their ongoing education, according to Anestis.
"Many high schoolers today manage their lives on their mobile devices, so why not bring mobile learning via an interactive game?" asks Anestis. "SATLadder is not an IQ test. It's not an intelligence test. It's simply a test of a player's ability to answer SAT-style questions, and through that process, the player learns and can get much better at it if he or she is willing to practice, practice, practice. We have seen great results so far with our students who use the app as part of their preparation routine. Our students who have done 100 or more rounds of SATLadder have all reached or surpassed their goal scores on the SAT"
SATLadder is a versatile app that provides a more dynamic, on-the-move mode of preparation that makes it fun to study for the SAT®. It includes over 2,000 SAT® questions with answer explanations and definitions to over 1,000 high-frequency SAT® words. Find the SATLadder app at the iPhone app store for $0.99 for the Lite version and an additional $3.99 for the Full version. For more free education apps, click over to this list of the top 50 free education apps.
###