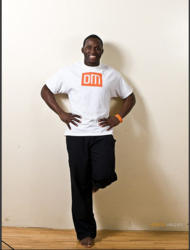 Healthy and fit employees make for a more productive work environment.
Dallas, TX (PRWEB) November 29, 2011
Don Miguel: Dallas's most trusted personal trainer and fitness coach announces Brinkmann Corporation corporate fitness and wellness program geared towards providing convenience and positive health experience to employees.
Brinkmann Corporation employees participate in outdoor sports conditioning boot camp classes. "Healthy and fit employees make for a more productive work environment. Already, participants have seen a dramatic difference in their energy levels, endurance, strength and are consistently making better food choices," says Don Miguel.
Don Miguel shares the same belief as T. Boone Pickens: "Good health does not just happen...to achieve and maintain it requires individual effort. Such effort is particularly essential for individuals holding jobs that do not require physical labor. Anyone will deteriorate physically sitting at a desk with no regular physical exercise!"
Some Noted Benefits of a Wellness Program:
Decreased absenteeism, More focused and energetic employees, Reduced insurance claims and healthcare costs, Increased employee satisfaction levels, Higher productivity and increased morale, and Return on investment. Don Miguel takes care of everything.
About Don Miguel
Don Miguel serves as the CEO and Chairman of the Board of Fit-for-Me Foundation. He guides the organization's educational efforts to advocate and advance programs and services directed at bettering the lives of young people. Don Miguel consults on a range of non-profit issues, including start-up to relevant programming. His continued dedication to fitness is reflected through his fitness and wellness endeavors and on-going educational pursuits in fitness and wellness. He embraces a commitment to an active lifestyle and has fun doing it.
If you would like more information on Don Miguel's book, consulting, and coaching: Individual and Corporate, please contact him at MediaFit Communications 25 Highland Park Village Suite 100-726 Dallas, TX 75205, or visit his web site http://www.StopTheStutteringBook.com.
About Brinkmann Corporation
The Brinkmann Corporation reputation is 30 years strong and is a leading manufacturer of outdoor cookers, smokers, outdoor lighting, hand-held lighting, lawn & garden products, pet products, camping equipment, boat covers, and Remington hunting and fishing gear. For the best in outdoor leisure products and sporting goods, remember the Brinkmann name!
Brinkmann is noted for quality, selection, innovation, performance, styling, reliability and customer satisfaction. For more information visit: http://www.brinkmann.net OR The Brinkmann Corporation Attn: Customer Service 4215 McEwen Road, Dallas, TX 75244 (800) 468-5252
# # #