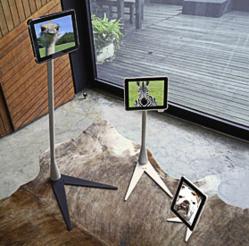 From show room to conference room, iPad users have been looking for a unique and convenient way to display and use their devices for standing use. Perch does just that.
Sunnyvale, CA (PRWEB) November 29, 2011
IPEVO, Inc., a designer and maker of technology products for education and business, has introduced the Perch family of iPad/iPad 2 stands. The products are presently available for purchase through IPEVO's online store (http://www.ipevo.com).
The Perch family of stands includes Perch L-type. At 49 inches (125 centimeters) tall, Perch L positions the iPad (or iPad 2, depending on chosen model) for standing users. Possible uses for Perch L include: as a podium for speakers (such as businesspeople, religious leaders conducting services, and more) needing to refer to notes or media on the iPad; as a lectern for educators using digital curriculum; as a hands-free music stand for musicians; and as an interactive placard or signboard, such as in a showroom, waiting room, art gallery, museum, shop, restaurant, or trade show.
Perch's support leg is made from forged aluminum, which provides durability while also being lightweight enough to transport easily. The total weight of Perch L is 13 pounds. The stand's V-shaped feet are made from heavy-duty steel to maximize overall stability. Available in black or white, Perch is designed with a simplicity and elegance intended to visually complement Apple's iPad.
The stand's holder is made from a rugged silicone to keep the iPad securely in place. The iPad is installed by snapping into place, and removal of the iPad is facilitated by the holder's cutout design: the user can grasp the iPad firmly and use a grip tab to remove the device in a single motion. The holder is affixed to the stand with a special dual-axis hinge which allows for tilts — so the user can customize viewing angle — as well as rotations to enable either portrait or landscape orientation. These adjustments are made by hand, and no knobs or other devices are required.
"Perch L enhances the iPad's potential of anywhere and everywhere tablet computing," explained Royce Hong, CEO and big head of design of IPEVO. "From show room to conference room, iPad users have been looking for a unique and convenient way to display and use their devices for standing use. Perch L does just that. It's a beautiful product at home in any setting, including high-end settings, it is lightweight for easy transport, and the stand's versatility is surprising for new users. Most everyone finds a use for Perch L."
In addition to Perch L, two other Perch models are also available. Perch S is designed for tabletop use, while Perch M positions the iPad for seated users.
Perch L is now available through IPEVO's online store at http://www.ipevo.com.
About IPEVO
IPEVO designs and sells innovative products to enrich today's connected lifestyle. We recognize the immense potential of new technologies to help people create, teach, learn, and inspire. From classroom to living room to conference room, IPEVO is dedicated to making technology more available, accessible, and affordable for all.
For more information, visit http://www.ipevo.com.
###