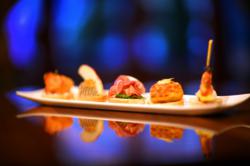 Every Monday evening from 7pm-10:30pm, enjoy Live Jazz featuring the Jeremy Bacon Piano Duo, and while you're there , enjoy a 2 for 1 drink special at the bar.
New York, NY (PRWEB) November 29, 2011
With mouthwatering menu selections such as Grilled Octopus or Lobster Fettuccine, The Barrel will be a new favorite East Village hangout. And that doesn't even touch their Pintxos (Basque tapas) menu. Diners can choose from a succulent variety of mixed mushrooms sautéed with herbs and white wine, or a delicious tropical calamari with hints of citrus.
With a full bar and a variety of dishes from cuisines such as Spanish, Italian, French and Mediterranean, it is sure to please guests looking for a delicious meal in a trendy environment.
In addition to the Pintxos, they also have a wide variety of meat and seafood tapas with selections including New Zealand mussels cooked in a saffron spiced sauce, or a spicy and flavorful rosemary sausage. Those who are cheese connoisseurs will be delighted at the selection of cheeses available for the cheese plate.
The Barrel serves lunch and brunch in addition to their dinner menu. On the lunch menu diners looking for more traditional options will find items such as a grilled chicken sandwich, and for those feeling adventurous, the Ducks in a line, a dish of duck confit spaghetti cooked with garlic, shallots, extra virgin olive oil and truffles is a great choice. On the brunch menu is a variety of omelets and egg dishes made with organic eggs from classics such as Eggs Benedict to a flavorful egg casserole made with sausage and beans and baked with a crusty basil Parmesan top. There are also a variety of waffles and pancakes as well as the same flatbreads from their dinner menu, only topped with an egg cooked in the style of your choice. Brunch is served beginning at 10am on Saturday and Sunday mornings.
There is a variety of daily specials, including items like whole lobster and rib eye steaks, and they even host a wine pairing so to help those looking for fine wines choose the best wines to compliment delicate flavors of the food.
For those looking for a fun and entertaining evening every Monday evening from 7pm-10:30pm The Barrel presents Live Jazz featuring the Jeremy Bacon Piano Duo, and while there guests can enjoy a 2 for 1 drink special at the bar. The drink special is available Sun-Wed from 7-11pm. In addition, The Barrel hosts a fabulous happy hour where wine and sangria is discounted to $5, well drinks to $4, and draft beer to $3, along with a variety of small plates for $5 each or 3 for $12. It's a great place to bring groups for a fun way to relieve the stress of a busy workday. Happy hour is Monday-Friday from 3-7pm.
The Barrel is located at the corner of 9th Street and 3rd Avenue at 10 Stuyvesant Street, New York, NY 10003 and is open Monday-Thursday from 11:30am-12am, Friday 11:30am-2am, Saturday 10am-2am, and Sunday 10-am-11pm.
###