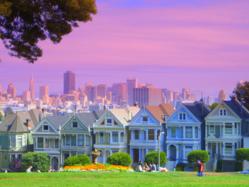 "We were stunned by the breadth and creativity of photos highlighting the best of San Francisco," notes Nick Ashton - Creative Director, SFTravel
San Francisco, CA (PRWEB) November 30, 2011
Over fifty winning photographs including a $500 Grand Prize have been awarded in the SFTravel.com 2011 Photo Contest. SFTravel celebrated its fifteen year anniversary with a photo contest sharing the best things to do in San Francisco. Top winners included amazing photography of cable cars, the Golden Gate Bridge, and the painted lady Victorian homes of Alamo Hill. Contest participation tripled from 2010, with over 300 photo entries and over 700 votes cast on Facebook.
SFTravel awarded a grand prize of $500 to Johnny Davis of San Francisco for Johnny's portrait of the painted lady Victorians of Alamo Square. The winning photo was taken at Johnny's fortieth birthday with a group of close friends. Alamo Square park was the perfect spot for a "groovy" party on a sunny day with plenty of room for dogs to run and picnic. The sunset cast a light purple / pink hue across the sky and Johnny took an inspired moment to capture the winning backdrop.
The runner-up prize of $100 in cash was awarded to Leah Parker of Vacaville for her breathtaking photo of romance on the beaches of Golden Gate Bridge. Leah's photo was taken at the golden hour of sunset and captures a true, special moment for a couple with the tide rushing up on the beach .
A runner-up prize of $100 in cash was also awarded to Danny Le of San Francisco for his incredible stylized photo of cable cars near Union Square in the sparkling evening lights. Danny is currently a student in the architecture program for the California College of the Arts in San Francisco after graduating from Arkansas' Hendrix College photography program. Danny writes, "I shot this photo using my Canon 5D on one of my first nights in San Francisco. I love the nightlife of San Francisco and like to slowly work my camera along the vibrant streets of San Francisco."
Fans of San Francisco around the United States were additionally awarded 50 exclusive SFTravel logo shirts to celebrate their shared vision of the Bay Area's best things-to-do.
SFTravel.com is a leading destination travel website featuring brutally honest reviews of San Francisco's best things to do. Originally founded in 1996, SFTravel.com is viewed by over 1.7 million annual unique visitors. SFTravel.com is a registered trademark of SFTravel LLC. Facebook, Youtube and all respective marks are the trademarks of their owners.
###