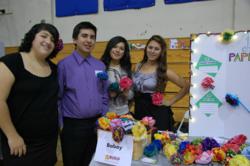 We sold out last year so we're bringing extra this time.
Palo Alto, CA (PRWEB) November 29, 2011
BUILD, a successful national organization using entrepreneurship to propel disengaged, low-income youth through high school to college success, will hold its seventh annual Holiday Sales Bazaar December 9 at the Oshman Family JCC in Palo Alto. More than 150 youth entrepreneurs representing 60 microenterprises will sell their wares at the event.
"All of the products shoppers will see on display were created, designed and manufactured by BUILD's high school students," said Dominique Ta, BUILD's Business Program Manager. "BUILD's program is not a simulation. Our students—as CEOs and CFOs—operate their own small businesses and bank accounts."
The Holiday Sales Bazaar is the year's first big selling event, and the enthusiasm and energy are high.
"I was so nervous at last year's Bazaar," said Bianca R., CEO of Babay, a team selling tissue paper flowers. "But I'm really looking forward to the second one. We sold out last year so we're bringing extra this time."
The Holiday Sales Bazaar is an ideal place to get face time with our young entrepreneurs AND find a unique holiday gift. Student business teams donate at least 5% of their profits to a charity of their choice. This BUILD event is free, family-friendly and open to the public.
What: Annual Youth Entrepreneurship Holiday Sales Bazaar
When: 6 p.m. on Fri., December 9
Where: Oshman Family JCC, 3921 Fabian Way, Palo Alto
Interviews with and photographs of students and the event available upon request!
ABOUT BUILD:
BUILD is a 4-year college access program that helps at-risk youth launch their own businesses. Students develop their own concepts, write business plans, pitch to funders, and launch real business ventures. Entrepreneurship is the hook—but college is the goal. Over the past eleven years, 100% of BUILD seniors have been accepted to college, with 91% accepted to 4 year colleges and universities. BUILD currently operates three sites in the San Francisco Bay Area, one site in Boston and one in Washington D.C. The Peninsula program serves 300 students at four high schools in the Sequoia Union High School District: Sequoia High School, Woodside High School, Carlmont High School and East Palo Alto Phoenix Preparatory Academy.
CONTACTS:
Stacey Palevsky
(650) 319-8337
spalevsky(at)build(dot)org
Lyndsey Ballinger
(650) 543-4769
lballinger(at)build(dot)org
###