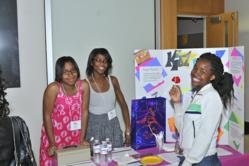 Our students manage the cash flow in their bank accounts and are supported by D.C.-area venture capitalists.
Washington DC (PRWEB) November 29, 2011
BUILD, a successful national organization using entrepreneurship to propel disengaged, low-income youth through high school to college success, will hold its third annual Holiday Sales Bazaar December 7 at Eastern Market North Hall in Washington D.C. More than 50 youth entrepreneurs will sell their wares at the event.
"Everything shoppers will have an opportunity to purchase is created, designed and manufactured by BUILD's high school students," said Christopher Brown, Regional Executive Director. "BUILD's program is not a simulation of business. Our students—as CEOs and CFOs—operate their own small businesses, manage the cash flow of their bank accounts, and are supported by private sector mentors and D.C.-area venture capitalists.
The Holiday Sales Bazaar is BUILD's first big selling event for young entrepreneurs, and the enthusiasm and energy are high.
"I was so nervous at last year's Bazaar," said Ariel G., CEO of Light Scents for Life, a youth business that manufactures handmade scented candles. "But I'm really looking forward to the second one. We sold out last year so we're bringing extra this time."
DC Council Chairman Kwame R. Brown, Councilmembers Harry Thomas, Jr. (Ward 5) and Tommy Wells (Ward 6) will be in attendance to support BUILD's D.C. students.
What: Annual Youth Entrepreneurship Holiday Sales Bazaar
When: 6 p.m. – 8 p.m. on Wed., December 7 (Brown is scheduled to speak at 6:45 p.m.)
Where: Eastern Market North Hall, 225 7th Street SE
The Holiday Sales Bazaar is an ideal place to get face time with BUILD's impressive young entrepreneurs, and to find unique holiday gifts that support a good cause. Youth business teams donate at least 5% of their profits to a charity of their choice.
Interviews with and photographs of students and the event available upon request!
ABOUT BUILD:
BUILD is a 4-year college access program that helps at-risk youth launch their own businesses. Students develop their own concepts, write business plans, pitch to funders, and launch real business ventures. Entrepreneurship is the hook—but college is the goal. Over the past eleven years, 100% of BUILD seniors have been accepted to college, with 91% accepted to 4 year colleges and universities. BUILD currently operates three sites in the San Francisco Bay Area and one site in Boston. The D.C. program serves 160 students at Dunbar and Roosevelt senior high schools, and the Maya Angelou Public Charter School, Evans Campus. Headquartered in the Eastern Market neighborhood, BUILD Metro DC runs the largest youth business incubator in the region.
CONTACTS:
Stacey Palevsky Lewis
(650) 319-8337
spalevsky(at)build(dot)org
Christopher Brown
(202) 450-1352
cristopher(at)build(dot)org
###