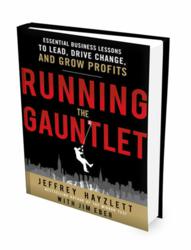 The SnapTag is a best-in-class solution for connecting with the people who buy, use, and evangelize products and services, said Jeffrey Hayzlett
Denver, CO (PRWEB) November 29, 2011
SpyderLynk, creator of the SnapTag™, announced today Jeffrey Hayzlett, a former Fortune 100 c-suite executive and bestselling author, will feature SnapTags throughout Running the Gauntlet, his new book about driving change in organizations. SnapTags are found at the beginning of each of the book's 35 chapters offering readers a direct connection to unique video content further explaining the core concept of each chapter. Scheduled for release January 3, 2012, the book is currently available for pre-order.
"Adding SnapTags to Running the Gauntlet provides a transformative opportunity to connect with readers," said Jeffrey Hayzlett. "The simplicity of engaging with readers using the SnapTag creates a real opportunity to share additional video content about important concepts and practices for any company out there. The SnapTag is a best-in-class solution for connecting with the people who buy, use, and evangelize products and services − yours and ours."
"This is the first time an author has used SnapTags in such an innovative way to bring immediately accessible video content to readers enhancing the subject matter and the author's connection to the reader," said Nicole Skogg, CEO of SpyderLynk. "It is fitting that a book about change and adopting innovation in business would use SnapTags to transform the way readers connect with the author. We are excited to partner with Jeffrey Hayzlett to bring the chapters of Running the Gauntlet to life in a meaningful way. Consumers are already embracing the use of SnapTags to connect with brands and we expect the application of the SnapTag in publishing to bring remarkable value to readers."
Sophisticated QR Alternative Delivers a Scalable Solution for One-to-One Conversations with Consumers
Mobile activation enabled by 2D Mobile Barcodes is emerging as an important channel for connecting marketers with mobile consumers to unlock new, powerful consumer engagement and relationship models. SnapTag's patent-pending Code Ring™ technology makes logos and icons interactive marketing tools allowing brands to engage in sophisticated conversations with mobile consumers. Consumers simply SNAP a picture of the SnapTag with their mobile camera phones and send it to a designated short code to activate a response featuring brand content (iPhone and Android users also have the option to scan SnapTags using the SnapTag Reader App). As opposed to QR Codes, which typically drive mobile users to a website, SnapTags' Smart Response Platform delivers multimedia content, information and offers right to consumers' mobile phones and enables variable responses tailored to the occasion.
About SpyderLynk
SpyderLynk is a mobile activation and marketing platform company. SnapTags and Social SnapTags are SpyderLynk's proprietary 2D Mobile Barcode solutions enabling marketers to use meaningful logos and icons as interactive marketing tools. Consumers with smart or standard camera phones can use SnapTags placed on packaging, advertising, signage or screens. A smart, algorithm-driven platform powers campaigns ranging from simple to sophisticated accelerating purchase cycles and driving marketing results. Brands such as Coke Zero, Revlon, L'Oreal, MillerCoors, Warner Brothers, Toyota, Bud Light and others are using SnapTags and Social SnapTags to activate best in class marketing and accelerate their social connections. Based in Denver, Colorado, SpyderLynk was founded in 2006 and can be found online at spyderlynk.com. Follow us on Facebook (facebook.com/snaptag), Twitter (@SpyderLynk) and through the #SnapTag hashtag.
Jeffrey Hayzlett
Jeffrey Hayzlett is a global business celebrity and former Fortune 100 c-suite executive. From small business to international corporations, he has put his creativity and extraordinary entrepreneurial skills into play, launching ventures blending his leadership perspectives, insights into professional development, mass marketing prowess and affinity for social media. He is a well-traveled public speaker, the author of the bestselling book, The Mirror Test, celebrity editor to one of the largest-circulation business publications and one of the most compelling figures in global business. Dubbed "a born leader" by Mark Burnett, Jeffrey has successfully leveraged multiple media appearances on programs like Fox Business News, MSNBC's Your Business and NBC's Celebrity Apprentice with Donald Trump. Drawing upon an eclectic background in business, buoyed by a stellar track record of keynote speaking, and deeply rooted in cowboy lore, Jeffrey energizes his role driving and delivering change. He is a turnaround architect of the highest order, a maverick marketer who delivers scalable campaigns, embraces traditional modes of customer engagement, and possesses a remarkable cachet of mentorship, corporate governance and brand building.
###