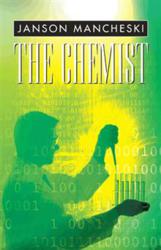 GREEN BAY, Wis. (PRWEB) November 30, 2011
Fans of murder mysteries will find a new terrorizing character in Janson Mancheski's new novel "The Chemist: A Cale Van Waring Adventure" (published by Abbott Press).
The chemist at the center of Mancheski's thriller is flawless. He leaves no evidence. No one has ever seen him, heard his voice or felt the touch of his hand and lived to tell the tale – which is a serious problem for Green Bay homicide investigator Cale Van Waring. Five months ago, a female victim turned up in Lake Michigan. Her head was missing, and there were no suspects. It was a cold case until Cale caught a break.
"I wrote "The Chemist" in a style that embraces fast-paced action. What readers will enjoy is dipping into the demented mind of the criminal. The interplay between the detective's dogged determination versus the sinister designs of a serial kidnapper takes the reader on an edgy journey."
The author describes "The Chemist" as a "love story wrapped inside a thriller." Cale is a never-been-married bachelor whose girlfriend has given him an ultimatum. As Cale tries to navigate the responsibilities of being in a relationship, a central question begins to form throughout the story: how does an investigator handle the routine ups and downs of everyday life when his job is to hunt down a serial killer?
A thinking-man's thriller, "The Chemist" delivers a thought-provoking read that brings an unusual sense of introspection to classic caricatures. It's a change of pace that is sure to have readers begging for more.
About the Author
Janson Mancheski is an award-winning novelist. He also works as a practicing medical professional in Wisconsin. From 1992–1999, he was the team eye doctor for the Green Bay Packers. Mancheski is currently at work on the next Cale Van Waring adventure.
Abbott Press, a division Writer's Digest—the oldest and most respected publisher devoted to the education and advancement of writers—is an indie-publishing imprint dedicated to helping writers bring their literary vision to print. Author Solutions, Inc., a leader in indie book publishing, will fulfill publishing, sales, and marketing services for Abbott Press. For more information, or to begin publishing a book today, log on to abbottpress.com or call 866-697-5310.
###