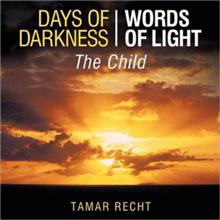 LAWTON, Okla (PRWEB) November 30, 2011
The reactions a person may have to a childhood of abuse vary, but a common reaction is to assume they deserved the treatment they received. In her new autobiography Days of Darkness Words of Light: The Child (published by WestBow Press), author Tamar Recht reveals her story in the hopes that it may encourage fellow sufferers to remove themselves from a painful situation.
Growing up in Germany with her mother and her stepfather, Recht suffered at the hands of her abusive stepfather. Her mother didn't protect her from this abuse, and this neglect contributed to her feelings of guilt. "As a child I did not know that what happened was wrong. This is how I was living, and it all seemed normal."
As she grew, though, Recht began to realize that abuse was not a normal part of childhood. Then the questions and doubts began. "Why did this happen to me? Why didn't anybody protect me? What did I do?" Because she lacked a strong support structure, she felt that people treated her like it was her fault. She began to live for the day when she reached her majority, so she could escape her abusive home. Unfortunately, getting out on her own helped little.
It wasn't until she found God, after coming to America, that Recht felt like her life began to improve. "I never realized," Recht says, "how bad things had gotten for me until the day God set me free from the abuse and the aftermath that came out of it."
Days of Darkness Words of Light is Recht's prayerful offering to other abuse victims. "There are so many hurting women out there," Recht writes, "that need to know that there is hope, healing and forgiveness. They are not being condemned but lovingly reminded that they are not alone in their pain."
About the Author
Tamar Recht was born and raised in Germany, and moved to the United States in 1988. She lives in Oklahoma with her husband, David, where she is active in her church. She and David have five children and six grandchildren.
WestBow Press is a strategic self-publishing alliance of Thomas Nelson, the world's premier Christian publisher, and Author Solutions, Inc. (ASI)—the world leader in the fastest-growing segment of publishing. Through this partnership, authors benefit from the rich publishing heritage of Thomas Nelson and the speed-to-market advantages of the ASI self-publishing model. Titles published through WestBow Press will be evaluated for sales potential and considered for publication under the Thomas Nelson imprint. For more information, or to start publishing today, visit westbowpress.com or call 866-928-1240.
###