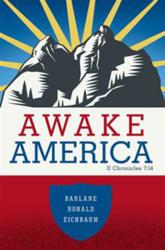 RENO, Nev. (PRWEB) November 30, 2011
The arrival of the Tea Party into U.S. politics brought conservatism and libertarianism into the forefront, but it also brought Christianity into politics with a focused vigor. Addressing political issues with a Christian influenced morality, Barlane Ronald Eichbaum delivers Awake America: II Chronicles 7:14 (published by WestBow Press) a new book showing readers his understanding of the relationship of biblical prophesy to the potential downfall of the U.S.
Eichbaum takes inspiration from such people as Billy Graham, J. Edgar Hoover and William Buckley. He draws readers' attention to political issues, and uses biblical scripture to present solutions and answers to many problems.
Awake America tackles such subjects as:

Gun control in America
Foreign relations
Communist desires in the U.S.
Religion in public schools
Family life and the degeneration of families
The U.S. military-industrial complex
Corruption in the government
The economy
Environmental issues
Morality in the U.S.
Eichbaum's Awake America is relevant for any Christian concerned about moral decay and decline in prosperity and power in the U.S.
About the Author
Christian patriot Barlane Ronald Eichbaum served in the U.S. Air Corps in WWII, attended Rutgers to receive B.S. and Ph.D. degrees, and earned an M.S. degree in engineering from Texas University. He studied business management at Temple University. Eichbaum is a consultant for environmental problems, nuclear energy and engineering, is active in social, religious, and civic activities, and is a founding member of Reno Christian Fellowship. He and his wife, Bea, have been married over 60 years and have seven great-grandsons.
WestBow Press is a strategic self-publishing alliance of Thomas Nelson, the world's premier Christian publisher, and Author Solutions, Inc. (ASI)—the world leader in the fastest-growing segment of publishing. Through this partnership, authors benefit from the rich publishing heritage of Thomas Nelson and the speed-to-market advantages of the ASI self-publishing model. Titles published through WestBow Press will be evaluated for sales potential and considered for publication under the Thomas Nelson imprint. For more information, or to start publishing today, visit westbowpress.com or call 866-928-1240.
###