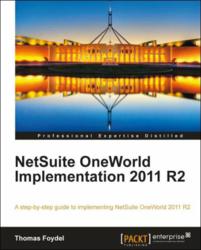 UK (PRWEB) November 29, 2011
Birmingham: Packt Publishing, one of the world's leading publishers of Enterprise books, announces the publication of its NetSuite OneWorld Implementation 2011 R2 book and ebook. This focused, step-by step tutorial shows readers how to successfully implement NetSuite OneWorld into their businesses. It is written in an easy-to-read style, with a strong emphasis on real-world, practical examples with step-by-step explanations.
Aimed at application administrators, business analysts, project team members or business process owners who want to implement NetSuite OneWorld into their business, this book is not to be missed. It includes instructions on how to: understand the configuration and customization of NetSuite OneWorld within the implementation process, grasp the base setups of a newly provisioned NetSuite OneWorld customer account and how it affects the system's behavior and how to analyze NetSuite OneWorld data for decision making, including reports, ad-hoc queries and key performance indicators, amongst others.
The book is available from Packt Publshing in print and eBook formats, as well as from other leading book retailers.
Packt Publishing has, in recent times, published a number of Enterprise Business Management titles including:

Microsoft Dynamics GP 2010 Cookbook
Full details for Packt's Enterprise Business Management titles can be found on Packt's website.
About Packt.
Packt Publishing is one of the world's leading providers of books, eBooks and eLearning for Enterprise technologies. All Packt titles are available in print form, Kindle, ePub, mobi, and through online library platforms. Packt recently launched its own library platform 'PacktLib' where web users can access all Packt's titles for a low annual subscription.
###