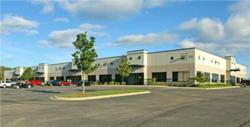 Lexington Corporate Center is an ideal location; it has excellent access to the freeway system expanding our ability to provide our customers with immediate access to parts and services. Richard Frazier-Kaman Industrial Technologies
Minneapolis, Minnesota (PRWEB) November 30, 2011
Meritex announced today, the completion of a 29,673 square foot, five-year lease with Kaman Industrial Technologies Corporation at Lexington Corporate Center located at 3225 Neil Armstrong Boulevard in Eagan, Minnesota.
Kaman Industrial Technologies Corporation chose Lexington Corporate Center for its distribution and customer service center to consolidate its operations following the 2010 acquisition of Minarik Automation & Control, formerly based in Edina. Kaman Industrial Technologies Corporation is a subsidiary of Kaman Corporation which was founded in 1945. Richard Frazier, Director of Real Estate, Facilities and Fleet at Kaman, commented, "Lexington Corporate Center is an ideal location for our new distribution hub and customer service center. It has excellent access to the freeway system expanding our ability to provide our customers with immediate access to parts and services. Meritex continues to be a great partner in this move."
"When Meritex purchased the property, it was 100% vacant. However, with the leasing expertise of Phil Simonet and Zach Anderson of Paramount Realty Services, the property is now 81% occupied," commented Steve Dorff, property manager for Meritex. "We are excited to provide a leading global company with a first-class property that will streamline their distribution network."
Company Information: Meritex is a private real estate investment and management company that acquires, develops, owns and operates commercial real estate, primarily institutional grade, multi-tenant industrial properties. The Company owns, leases, and manages 8.6 million square feet of commercial real estate in 7 markets in the U.S. Its portfolio consists of multi-tenant industrial, office and subsurface industrial properties. The Company's properties are located in Atlanta, Columbus, Denver, Houston, Indianapolis, Kansas City, and Minneapolis-St. Paul. Additional information can be found at the Company's website http://www.meritex.com.
###