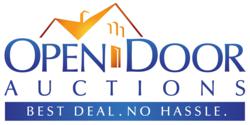 Irvine, CA (PRWEB) November 29, 2011
The host of the new Open Door Auctions podcast welcomed Doug, a recent home seller, to discuss the benefits of Open Door Auctions' innovative techniques and pricing model.
The host said that one of the best things about the Open Door Auctions model is "the fact that it creates a certain amount of excitement and velocity and really brings attention to properties that are newly listed. You never want a property to get in the position where it's stale and shopworn."
"The reason I was interested in the home auctions model in the first place is that our current real estate market is really one that is in a flattened downward trajectory," Doug said. "The problem we still have is that there's a lot of inventory on the market, and it's really hard to get people to pay attention to a particular listing because there's so much out there."
Doug said that strategy is important: making sure that as much attention as possible is given to new listings. He said it's important to make sure that those properties should be sold hard before the property is on the market too long, and the value drops. The host agreed, citing the "strike while the iron is hot" principle.
The Open Door Auctions home-selling strategy focuses the power on the owner placing leverage in the owner's hands, giving him greater negotiation power and therefore a more profitable sale.
"It's even more appropriate now just because listing times have gotten so long and a lot of the markets are so soft. Unless you can get a lot of people attracted to a property all at one time, then what happens is there's no urgency on the part of the buyer," Doug said.
Creating demand is an important part of the Open Door Auctions process. By increasing demand for the property on the market for new properties, the real estate market may be nudged along the road to recovery.
While increased views of the new listing is important, the host said that price discovery—making sure the property is put on the market at the most saleable price—is also key. Many owners put their homes on the market at too high a price due to sentimental value. But in a short sale market, it's essential for a seller to consider how much demand there is in the marketplace for the type of property they're selling.
About Open Door Auctions, Inc.
Based in Orange County, California, Open Door Auctions uses a business model that is fundamentally different from every other traditional real estate agency in the marketplace. Open Door Auctions hosts easy auction-style open houses—offering interested buyers, homeowners and real estate agents a more fruitful and exciting way to do business. Unlike traditional real estate brokerages, the Open Door Auctions system works in just two weeks. For more information, visit Open Door Auctions online.
###