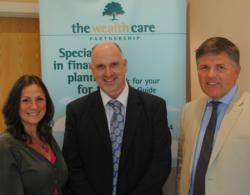 (PRWEB) November 29, 2011
Launceston-based Independent Care Fees Specialist, Simon Wrench, has become the latest to join The Wealth Care Partnership, an award-winning firm of specialists in Long Term Care planning for the elderly.
Simon said: "As an Independent Financial Adviser of many years working in care fees planning and financial advice for retirees, my own experiences with my parents and grandparents highlighted the complexities of Long Term Care planning. Joining The Wealth Care Partnership has meant that I can meet the very real demand amongst my clients for clear advice and help when it comes to making decisions about the long term care of elderly relatives. With the expert advice and support of The Wealth Care Partnership, I can help them navigate the maze of legislation, benefits and financial options."
The whole process of dealing with an elderly relative who needs care can be difficult, emotive and stressful. The Wealth Care Partnership advises on long term care solutions by working closely with the family members concerned to produce a comprehensive package of measures designed to assist in every aspect, from dealing with existing investments and property to setting up Immediate Care Plans.
Simon adds: "From a professional point of view, unlike other national IFAs I have worked with who cover general financial matters, The Wealth Care Partnership really does focus on elderly issues and has a far higher level of understanding in this field. They ensure I meet all the necessary compliances and receive all the on-going training and administrative support I need - very important when working to deliver the best options for a client in this very complex environment."
The Wealth Care Partnership offers a free advice line 0800 6528232 (8.30am-5.30pm Mon to Fri except Bank Holidays) to those concerned about funding care for elderly family members and annually publishes an excellent Free Guide to Care Fees Planning (online at http://www.thewealthcarepartnership.co.uk/guide.html).
Its author, The Wealth Care Partnership founding Partner, Karen Rayner, is one of the country's leading care fees experts. It is her goal to raise awareness of the fact that Independent Care Fees Specialists can guide and advise people who pay for their own care fees when it may seem that no one is there to help.
Karen said: "There is a general lack of understanding about the financial implications of funding long term care. Sadly, many people could have protected their hard earned capital from erosion if they had been given the right advice and guidance at the beginning of the process."
She continues: "Specialist Care Fees Advisers like Simon, appreciate what is involved in procuring the best and most appropriate care for the elderly person involved. This enables us to deliver realistic financial options which are not a "one size fits all" solution and are very much tailored to each individual case. This involves working alongside families to give them the broad picture in terms of what the care options are, the role of social services and the NHS, what benefits are available to help with funding, to name a few areas. And that's before tackling the financial advice. It is a role which requires much more from our advisers and Simon's reputation preceded him. We sincerely welcome him on board."
Simon Wrench is based in Launceston, Cornwall bringing The Wealth Care Partnership's number of advisers covering the South of England to six.
###