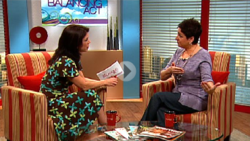 Through Living Rich with Coupons, I have learned how to prioritize while still enjoying the best things in life and I am thrilled to share my personal tips of empowerment and savings on "The Balancing Act" premiere women's show on Lifetime
(PRWEB) November 30, 2011
Balancing work and family life, budgets and priorities, to-do lists and time crunches can be challenging at any time of year, but it can be especially stressful to focus on the balancing act during the holiday season. With that in mind coupon pro Cindy Livesey, creator of the popular Living Rich with Coupons site, will appear November, 30th on The Balancing Act's 'My Empowerment' series which airs Wednesday's on Lifetime Television.
This special 'My Empowerment' edition of "The Balancing Act" features topics that cover everything from money and career to shopping and saving. Make sure to join Livesey as she presents some very simple ideas for saving big during the holidays-- and throughout the year. Her website, a one-stop source for savings and deals, focuses on grocery and food savings. In the past year, Livesey saved more than $11,000 on groceries through the use of coupons alone, with a focus on becoming completely debt-free.
"I am very familiar with how challenging the balancing act can be during the holidays when there is so much to buy and do and see," Livesey said. "Through Living Rich with Coupons, I have learned how to prioritize while still enjoying the best things in life and I am thrilled to share my personal tips of empowerment and savings on "The Balancing Act" premiere women's show on Lifetime."
In particular, the 'My Empowerment' series focuses on finance-related books and issues, dressing for success, job interviews, savings on everyday items such as groceries and more.
In addition, Livesey was recently selected to serve on the brand-new Coupon Network Advisory Board, providing advice on direction, features, future innovation and savings opportunities available on CouponNetwork.com.
"You can still have very happy holidays while using coupons and budgets, and you don't have to feel like you're alone while you balance your busy life. It's all about simplifying, saving and savoring the sweet stuff," Livesey added.
About "The Balancing Act"
"The Balancing Act" TV show is produced by O2 Media, Inc and airs on Lifetime Television at 7:00am (ET/PT). "The Balancing Act" is America's premier morning show that's about women, for women and trusted by women. For information or to view a show, visit http://www.TheBalancingAct.com. You can also follow "The Balancing Act" on http://www.facebook.com/TheBalancingActFans, http://www.twitter.com/BalancingActTV and http://www.youtube.com/thebalancingact.
About LivingRichWithCoupons.com
Launched by Cindy Livesey in 2009, Living Rich with Coupons provides coupons, savings and deals, particular for groceries. The site also offers tutorials on couponing, budgeting and living life debt-free. For more information, please visit http://www.livingrichwithcoupons.com
###