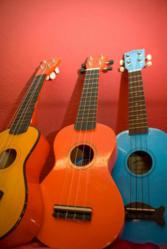 This song is really close to my heart. I was born and spent many years in Hawaii. My dad was in the military and sometimes was not around for months at a time – Mele Kalikimaka reminds me of my family during the holidays.
Portland, Oregon (PRWEB) November 30, 2011
This December sign on to Facebook to learn how to play and sing "Mele Kalikimaka" the traditional Hawaiian Christmas song popularized by Don Ho and played by musicians around the world. From December 1 until December 16 the world is invited to learn the song and then upload their version of the song to MusikHaus. The Director of Music will then make a video of the song and pick a winner from all of the entries.
Participants are invited to sing or play any instrument they choose to be entered into the contest - all instruments and all voices are welcomed to participate. The winner will receive a new ukelele from MusikHaus and their video will be featured on the MusikHaus Facebook page for the month of December. "If you don't have a "uke" no problem," says Stephanie Hays Gabriel. You can always get one from our site or use another instrument for a chance to win a new ukulele."
"Not only do we want to spread the idea of peace, joy and music during the holidays I want to share this song with everyone who is not home during Christmas" said singer and Director of Music at MusikHaus Chris Gabriel, " This song is really close to my heart. I spent many years in Hawaii. My grandfather is there and I lived there as a child. My dad was in the military and sometimes was not around for months at a time – Its songs like Mele Kalikimaka that remind me of my family during the holidays -- even if families are separated by distance they can be brought together with song"
The contest is free and anyone can participate. Follow the instructions below and you could be well on your way to winning the Ukulele.
1 – Go to http://www.facebook.com/musikhauspdx or to http://www.youtube.com/musikhauspdx and watch the MusikHaus Ukulele Contest Giveaway Overview posted on either site
2 – Watch the 8 instructional videos on how to play Mele Kalikimaka posted on these sites
3 – Record your own version, post it online and share a link on http://www.facebook.com/musikhauspdx. If you don't have facebook, email us a link and we will post it for you! Deadline to submit is December 16th.
4 – Share your video with friends and family!
5 – Winner of the contest will be chosen and notified on December 24th based on quality of music and video as well as positive feedback, comments and likes from friends and family on your link.
Chris Kalani Gabriel is the Director of Music at MusikHaus. Chris has been performing and teaching music to children and adults for over fifteen years. As a teacher of beginner and advanced musicians, his focus is on building a solid foundation in music theory and technique and teaching to mastery. Chris was born in Germany and discovered the guitar at an early age, his love of Hawaiian and country music are reflections of his summer visits to his grandparents in Hawaii and Bakersfield, California. Chris has over a decade of teaching experience and he is so excited to live his dream to open a space where he could use his unique experiences and abilities to help carry on these traditions.
Stephanie Hays Gabriel, co-founder and Administrative Director or MusikHaus, has a background in business, community organizing and arts planning. She has curated musical events like the annual Jazz series featuring local Jazz artists and has served as a board member for local non-profit PDX Pop Now! for several years. It has long been Stephanie's dream to bring her talents to the local community, bringing musical and creative spaces for people to gather and share experiences.
Chris and Stephanie's shared experiences over 20 years have made MusikHaus the perfect place to share their experience. They met in a performing arts class at Hilo High School in Hawaii. After returning to Portland to finish their degrees, they moved to Germany and were very active in the musical Zeitgeist. After returning to Portland, they began writing, performing and recording in the band Super Zeitgeist, which released their first children's CD, "Super Fun Times" under the moniker SuperZ in 2009.
MusikHaus teaches teach primarily western steel, jazz guitar, Hawaiian ukulele and is developing new classes everyday. There's always something unique at MusikHaus and the school will focus on student's musical development from individual learning to group performance.Students as young as 4 can start single and group lessons. The school focuses on a wide range of musical styles in addition there are a range of kinder classes for children as young as 3 months.
###