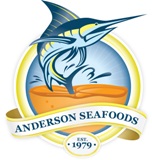 Our company's philosophy is to be at the forefront of preservation and aquaculture efforts to ensure the bounty of our seas for generations to come
Anaheim, CA (PRWEB) November 30, 2011
We are excited to partner with the Aquarium of the Pacific in the Seafood for the Future program, which will help fulfill our sustainability commitments and educate existing suppliers as well as finding the ones who share our philosophy of sustainability. We strongly believe this will have a real impact in the marketplace, and ultimately in our waters. Creating more demand for seafood from sources that support healthy oceans puts us on course to improving fishing practices around the world. "Seafood for the Future was first impressed with Anderson Seafoods extensive sustainable seafood program and their direct relationships with local fishermen. We admire that they are looking to further improve upon their sustainable sourcing. We look forward to connecting Anderson Seafoods with additional sustainable seafood producers to expand their current sustainable seafood product list through our partnership" said Melissa Carrasquillo, Seafood for the Future Program Manager.
The aquarium's team will provide Anderson Seafoods with scientific information and educational materials to help the company increase its purchases of sustainably wild-caught and farmed seafood. "Although we have made great progress on our sustainability efforts, the goal is to reach a point where a significant amount of all seafood purchases come from a sustainable source," said Dennis Anderson, President of Anderson Seafoods. "As a leader in our industry, our company's philosophy is to be at the forefront of preservation and aquaculture efforts to ensure the bounty of our seas for generations to come." For a more in-depth analysis on this particular topic, we invite you to visit our sustainability section on our wholesale site: Anderson Seafoods.
About Anderson Seafoods
Anderson Seafoods was established in 1979 with the goal of providing premium seafood products and superior service to valued clients in sustainable and innovative ways. Starting from a small family venture in Orange, California, Anderson Seafoods has evolved into a full-scale, state-of-the-art operation and is recognized as a leading authority in the seafood industry. Anderson Seafoods has established its own network of direct sources for fresh and frozen products from around the world including Mexico, Hawaii, Alaska, Canada, the Pacific Northwest, the East Coast, Asia and South America. With wild caught seafood, the company refrains from doing business with those who engage in illegal, unreported and unregulated methods. All facilities are USDC (United States Department of Commerce) inspected and seafood sources are HACCP approved.
About Seafood for the Future
Seafood for the Future is a nonprofit seafood advisory program dedicated to its mission to promote healthy and responsible seafood choices. The program was founded in 2009 by the Aquarium of the Pacific with a generous grant from the Pacific Life Foundation. The program's efforts have been acknowledged through partnerships with organizations like the National Oceanic and Atmospheric Administration's FishWatch and FishChoice. In August, Los Angeles Magazine honored Seafood for the Future with the Earth Changer award. The program promotes transparency in the seafood system by providing a platform for discussion among members of the seafood industry, serving as a conduit of fact-based information on aquaculture and wild capture fisheries to purchasers, restaurants and consumers, and forming partnerships with concerned industry players to have the greatest impact on the seafood supply chain. Consumers can find responsibly sourced seafood at Seafood for the Future's partner restaurants and retailers. See website for details: seafoodforthefuture.org.
For more information, please contact us at: 1 (855)-654-FISH or, log on to: http://www.ShopAndersonSeafoods.com/ ; http://www.AndersonSeafoods.com/
Media Contact: Melissa Carrasquillo – Aquarium of the Pacific - MCarrasquillo(at)LBAOP(dot)ORG 562-951-5388
###