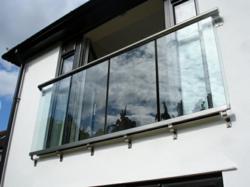 "Glass Balconies are Expensive" is the common concept - Not any more!
Lingfield, Surrey (PRWEB UK) 29 November 2011
"Glass Balconies are Expensive" is the common concept - Not any more!
Costing from well under £200, stylish glass Juliet balconies from Balcony Systems are opening new horizons of design possibilities. These Juliet balconies are one of the most affordable, durable and beautiful balustrading solutions on the market today.
At £178, the BAL 128 model (1,280mm wide handrail size) with a bronze handrail is the most cost-effective Glass Juliet balcony on the market today. An optional self-cleaning coating on both sides of the glass that reduces cleaning maintenance has further increased the product's appeal to homeowners.
Balcony Systems says sales of its Juliet balcony range have doubled this year compared to 2010 as purchasers realise the advantages of a low-maintenance and corrosion-resistant, long-term balustrading solution that not only looks good, but is simple to install.
"More and more window companies, architects and builders are offering our Juliet balconies, particularly on projects where first-floor French Doors are installed as clear glass keeps the views while adding more light," says Managing Director Effi Wolff. "With our proven system costing less than £200, we are continuing to challenge people's perceptions that glass balconies are expensive.
"In fact, our glass and aluminium balconies are not only cheaper to buy, but they also offer significant savings over their lifetimes compared to alternative balustrading materials like timber or steel, as there's no need for regular painting or repairs."
For more details on Balcony's range of Juliet balconies, including online quotations, check out [http://www.balconette.co.uk/Products/Juliette/.
Contact Balcony http://www.balconette.co.uk on 01342 410411 or email enquiries(at)balconette(dot)co(dot)uk.
###