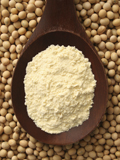 Lunasin XP® and LunaSoy™... are both poised to deliver the heart health benefits of the Lunasin soy peptide.
Omaha, NE (PRWEB) November 30, 2011
The Scoular Company's food ingredient business has expanded its product offering to include new innovative soy ingredients for manufacturers of functional foods and nutraceuticals. The ingredients are produced by Soy Labs, LLC, for which Scoular will serve as a North American marketing partner, the company announced today.
The addition of Soy Labs' products to Scoular's existing product line is a natural extension of Scoular's portfolio of ingredients suited for supplements, beverages and bars in the food and nutritional food sectors, according to Anne Brown, Senior Manager of Scoular's Food Ingredients marketing group. "We're excited to be working with a research-driven company like Soy Labs that is devoted to leveraging technology to produce novel, high-quality soy ingredients. Two products of particular interest are Lunasin XP® and LunaSoy™, ingredients that are both poised to deliver the heart health benefits of the Lunasin soy peptide in consumer products," said Brown.
"By tying into Scoular's established customer base and distribution network, this partnership will allow Soy Labs to continue to focus on developing new technologies, using the resources available at the Missouri Plant Science Center," said Soy Labs President, Ryan Schmidt. Soy Labs is the managing tenant for the Missouri Plant Science Center, a shared-use facility in Mexico, Missouri, where researchers work alongside business and industry experts in a multi-disciplinary environment. The center facilitates the collaboration between scientific and entrepreneurial minds to turn the latest research innovations into functional real-world applications and consumer goods.
About Scoular
In addition to marketing Soy Labs' products, Scoular supplies a wide variety of ingredients to the food industry, including conventional and organic proteins, fibers, specialty flours and oils, starches, and more. From more than 70 locations across North America, more than 650 Scoular employees tailor risk-management solutions for their customers by buying, selling, storing, and transporting grain and ingredients for use in feed, food, and renewable fuel markets worldwide. For more information about The Scoular Company, visit http://www.scoular.com.
About Soy Labs, LLC
Soy Labs is the premier soy-based ingredient supplier to the nutrition industry. The company spearheads research and develops proprietary soy peptides, ingredients, and formulaic compounds for inclusion in nutritional supplements, cosmeceuticals, soyfoods, functional foods, and beverages. For more information about Soy Labs and its products, visit the website at http://www.soylabs.com.
###