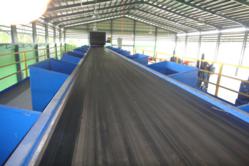 A process and apparatus to get rid of human waste, animal waste, while converting ocean water to fresh water, and generating clean green electricity, in addition to making organic soil.
Clark Freeport, Philippines (PRWEB) November 29, 2011
Today, True Bio Electric signed an exclusive contract with True Green Energy Group http://www.tgeg.asia , ISIN number CA8724191066, Cusip number 872419106 trading on Deutsche Borse AG under the stock symbol TGG.F as the exclusive agent to deploy the Closed Loop Bio Filtration system.
Ronald Flynn founder of True Bio Electric (TBE) announced, "that they had purchased the patent rights to a new invention from Smoke Stack Solutions INC., and now owned the exclusive rights to market and deploy a new system called, 'Closed Loop Bio Filtration'."
Daniel J. Haslinger, age 56 the former Chief Executive Officer and Owner of Micro Macro Integrated Technologies, a Nevada company specializing in computer-aided process control technology, invented a process and apparatus to get rid of human waste, animal waste, while converting ocean water to fresh water, and generating clean green electricity, in addition to making organic soil.
This patent is with the United States patent and trademark office under application number 60892673 with EFS ID No. 1560636 under the name, "Closed Loop Bio-filter". The invention takes the sludge from the municipal waste-water plants and mechanically de-waters the sludge that is fed into a drying plant, which utilizes heated air in the dryer. The dried sludge is palletized and can be used as beneficial soil and fertilizer.
The invention provides sludge to dehydrate while conveying hot air thus transferring energy and cleaning seawater to fresh drinking water.
In the time it takes to read this press release, 120 children will die from the effects of bad sanitation. Diarrhea claims the lives of nearly 6000 children a day – that is over two million deaths a year. These children are dying because they do not have access to adequate sanitation. Their deaths are from common diseases that are preventable. Human waste is a silent tragedy made worse by a scandalous lack of political will among governments to tackle the issue of poor sanitation. This failure to act means sanitation is now one of the world's most urgent health crises:

Four out of 10 people, 2.4 billion, are without adequate sanitation. This figure will rocket to half the world's population by 2025.
In Asia half the people are without adequate sanitation.
People suffering from water-borne diseases occupy half the world's hospital beds.
In China, India and Indonesia twice as many people are dying from diarrhea and diseases such as HIV/AIDS.
Poor sanitation and water supplies are the engines that drive cycles of disease, poverty, and powerlessness, in developing nations. Action to improve sanitation is important to enable the poorest people to escape poverty.
True Bio Electric mission is to be the industry leader in the development and promotion of environmental processes, which conserve and recycle valuable organic and mineral by-products, and to produce soil fertility products that enhance the quality of our soil, water, air and food supply. To work with communities and industries to provide the most environmentally sustainable approaches to their waste and residuals management challenges.
Today the United States creates more than 40 million tons of human waste while animals produce at least ten times more. The USDA estimates that more than 335 million tons of "dry matter" waste (the portion of waste remaining after water is removed) is produced annually on farms in the United States, representing almost a third of the total municipal and industrial waste produced every year.
Contaminated water, inadequate sanitation and poor hygiene cause over 80% of all disease in developing countries. Human waste is responsible for the transmission of schistosomiasis, cholera, typhoid and other infectious diseases that affect billions of people.
Renato lee III C.E.O of TGEG said, "Sanitation is an immediate priority as well as cleaning up the landfill sites and helping people. There will be little progress in health, education and economic productivity without improving sanitation. With the new invention "CLBF" Investment in sanitation and TGEG Bio green technology it will create economic benefits that vastly outstrip the costs.
The digestion of waste yields several benefits:

The production of methane for use as a fuel.
The waste is reduced to slurry which has a high nutrient content
Recycling of organic waste Practical Action
Waste collection and disposal is often seen as being the responsibility of the government or municipality. In many cases the municipality is unable to fulfill this role either due to financial constraints, lack of will or lack of organizational skills. In many cities, collection and separation of waste by the private or informal sector is seen as being too time consuming because of the content of the waste, often a mixture of organic and non-organic substances, such as plastic and film.
The fact is governments pay as high as $34.00 dollars a ton to get rid of the waste in order to keep their municipalities clean from poor sanitation and the transmission of infectious diseases.
Ronald Flynn, Founder of both TGEG and TBE, "said we issued 5,000,000 million shares of True Bio electric to (SSS) Smoke Stack Solutions and granted an 8% royalty on all net profits of the closed loop bio-filter systems that TBE we will deploy.
One "CLBF" plant will cost 5,000,000 USD to build and will get rid of 4.5 million tons of human feces per year. TBE Envisage at the rate of $34.00 profit per ton multiplied by 4.5 million tons of human waste, TBE would gross a whopping $153,000,000 million per system, per year, not to mention the other 335 million tons of waste by animals.
Business activity around the world has a profound effect on people's lives and livelihoods, but international business frequently neglect to fully consider the many ways that businesses can advance or impede the enjoyment of huge profits".
True Bio electrics intent is to get rid of human waste safely and efficiently while earning profits from the waste and the pellets created by the Material Recycling Facility.
This press release contains forward-looking information within the meaning of Section 27A of the Securities Act of the 1933 and Section 21E of the Securities Exchange Act of 1934, and is subject to the safe harbor created by those sections.
###