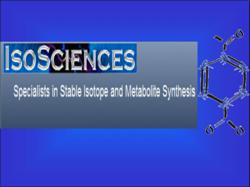 IsoSciences introduces new and improved standards for biological assays.
King of Prussia, Pennsylvania (PRWEB) November 30, 2011
IsoSciences, LLC, makers of stable isotope labeled compounds, has devised a simple solution to the problem, difficulty, and waste associated with making measurements using deuterium labeled compounds as internal standards. Many current deuterium labeled standards have the deuterium in an exchangeable position. Those positions can exchange spontaneously in aqueous environments which compromises the validity of the assay due to anomalies, linearity and reproducibility issues, as well as inconsistent recoveries. Many end users are unaware that this is even occurring in their tests.
The simple answer was to produce new chemistry that places the deuterium in positions where these problems cannot occur. The products are marketed as readily available catalog items, with most of these being available for same day shipping. These are also available as CertiMass™ standards of known concentration in solution thus eliminating the need for weighing very small masses of solids.
Since hydrogen-deuterium exchange (for deuterated compounds) is a difficult issue, particularly with hormone measurements, most compounds are available as both deuterium or carbon-13 motifs. The carbon-13 variety resolves any and all issues with hydrogen-deuterium exchange which is a problem that is characterized by large and unpredictable shifts in absolute and relative response. These problems have plagued blood measurements for decades, but is resolved by IsoSciences' unique chemistry for making stable labeled compounds either with carbon-13 or with deuterium where the deuterium is in non-exchangeable positions.
IsoSciences also specializes in custom synthesis of stable isotope labeled compounds. You can see IsoSciences LLC at http://www.isosciences.com and orders can be shipped to anywhere in the world.
###